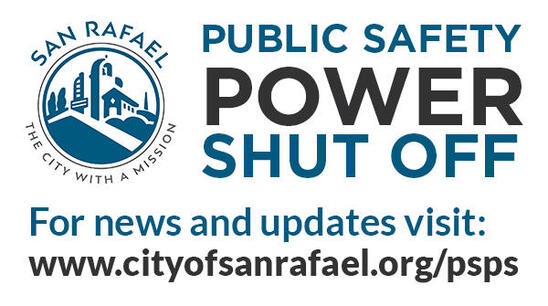 Updated: 10/27/2019 – 10:00am
Following the activation of a PG&E Public Safety Power Shutoff throughout San Rafael and Marin County, City of San Rafael staff are actively monitoring the event in conjunction with the County of Marin at the Emergency Operations Center.
Police and Fire Stations, and City Hall are currently operating on emergency power and are provided with additional staff to address community needs. 9-1-1 Emergency dispatch is operational.
For Emergencies
If you are experiencing an emergency, dial 9-1-1.
For information about outages, road conditions, and other non-emergency inquires, dial 2-1-1
Text to 911 – Wireless customers can now send a text message to 911 in an emergency.
Making Emergency Calls When Cell Towers Lose Power
During a Public Safety Power Shut Off cell towers may lose battery power after a prolonged period of time.
In the case of an emergency where your cell phone will not dial 9-1-1:
Land line phones will still call 9-1-1
(VoIP internet phones will not work).
All San Rafael Fire Stations have red phones with direct connection to emergency dispatch.
San Rafael Police Department is also staffed 24/7
San Rafael Police Department
1400 Fifth Avenue
San Rafael, CA 94901
Click here for a list of San Rafael Fire Station locations
---
San Rafael Public Information Centers
Public Information Centers are being set up at locations throughout the City. Information centers will be staffed, and we will provide updates at those locations when they become available.
Click here to see a list of all Public Information Centers in San Rafael
---
PG&E Community Resource Center  
Al Boro Community Center: 50 Canal Street, San Rafael
Open starting Sunday, 10/27 8 a.m. to 8 p.m. for the duration of the shutoff
Bottled water, electronic-device charging, cooling will be provided
---
City of San Rafael Charging Station  
Once power goes out, local agencies and community partners plan to activate a series of charging stations for affected residents to recharge cell phone and small devices. Hours listed are effective once the outage occurs.
San Rafael Community Center: 618 B Street 
Open Monday, 10/28 8 a.m. to 8 p.m. for the duration of the shutoff
Small electronic-device charging; bring your own charging cables
Other Charging Centers in the Area
Bolinas: Bolinas Fire Department, 100 Mesa Road (9:00am until 5:00pm)
Corte Madera: Corte Madera Rec Center, 498 Tamalpais Drive (Sunday 12pm-5pm, Mon-Thu 9am-4pm)
Corte Madera: Town Hall, 300 Tamalpais Drive (Mon-Thu 9am-4pm)
Larkspur: Central Marin Police station Community Room, 250 Doherty Drive (Open 24 hours)
Mill Valley: The Mill Valley Community Center, 180 Camino Alto, Mill Valley (Mon-Fri, 8:30am to 5:30pm) More information
San Anselmo: San Anselmo Library, 110 Tunstead (Saturday & Sunday 12pm-5pm, Mon-Wed 10am-8pm, and Thursday 10am-5pm)
Sausalito: Sausalito City Hall, 420 Litho Street, (9:00 am- 9:00 pm)
---
For Volunteers
If you are interested in volunteering please direct them to:
Select "Disaster Response Help"
---
Donations
We are not accepting physical donations at any of our Public Information Centers or City Facilities.
Cash donations can be made at cvnl.org/donate.