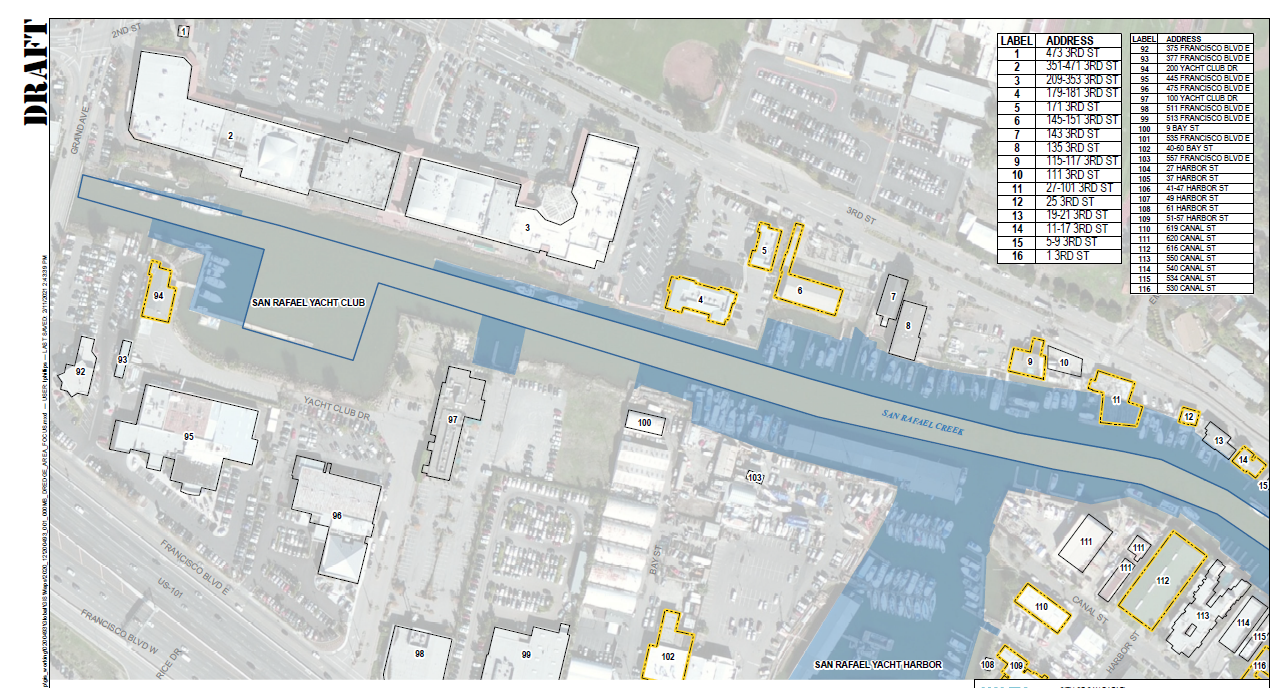 The City-hired consultant Scott Bodensteiner of Haley & Aldrich is moving forward with the next steps in coordinating the permitting process for the dredging of private docks and harbors along the San Rafael Channel. The USACE is only responsible for the dredging of the federal channel – the limits of which do not extend all the way to private marinas and docks along the channel. Therefore, to take advantage of piggyback pricing and dredge the same time as the USACE contractor is dredging the federal channel, private owners must obtain their own permits from the SF Bay regulatory agencies. The process would not be efficient or effective for each of the hundreds of properties to pursue their own permits, so the City has retained Mr. Bodensteiner to assist in coordinating these properties together under one "Umbrella" permit for the dredging of all non-federal portions of the San Rafael channel. The City will serve as the applicant on the permit.
To date, 70 properties along the channel have signed up for the umbrella permitting process. The cost of the permits, as well as the cost of retaining Mr. Bodensteiner, will be shared between participating waterfront properties based on the size of their private docks/berths.
Haley & Aldrich finalized a draft map of all Channel waterfront properties showing the proposed dredging limits (that is, the limits of the dredging that needs to occur that is not part of the federal channel). The dredging limits are the areas shaded in blue. This map will be submitted as part of the dredging application to the regulatory agencies to demonstrate the entire area the City is proposing to dredge – so it is important that these dredging limits are accurate.
All property owners participating in the umbrella permitting process are being asked to carefully review and confirm the dredging limits indicated for their property on this draft map by March 15th. Property owners should email SBodensteiner@haleyaldrich.com to confirm their dredging limits or with follow up changes/questions.
Link to draft map of dredging limits of non-federal Channel