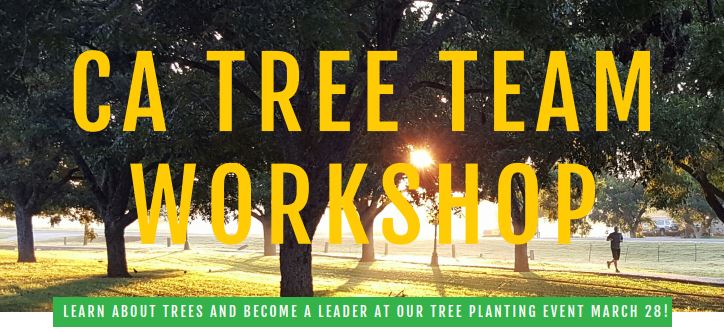 Join us to plant 100 beautiful, carbon-capturing trees in San Rafael on March 28!  Here's how to help:
Learn how to plant and maintain trees at a Tree Planting workshop, February 29, 9am, 618 B St.
Volunteer to plant, mulch and water, March 28, 8:30 am, McInnis Parkway.
Adopt-a-tree. Donate funds to water the trees for the first few years until they are established. (Any amount will help meet the goal of $500 per tree. See donation details below. Thank you!)
Come to McInnis Parkway, across the street from the Embassy Suites hotel, for the Planting, March 28, 8:30 a.m. Bring a spade and work gloves if you have them.  After sign-in, refreshments, and celebration, some volunteers will disperse to the Canal District to plant 30 trees.  Other volunteers will remain to line the north side of McInnis Parkway with 70 trees.  The City of San Rafael will have already bored the holes, and Cool Parks will have delivered the trees.  Depending on the number of volunteers, we will be done about lunchtime or early afternoon.
Everyone interested in any type of tree planting, including this event, is encouraged to come to a Tree Planting Workshop, February 29, 9 a.m. – noon at the Community Center, 618 B St, San Rafael.  Pastries and coffee provided. Reserve your workshop spot by emailing grantinfo@wcainc.com because space is limited. (There will be a similar workshop, March 7, 9 am – 12, at the Novato City Hall to train volunteers for another 100-tree planting in that city on April 18.)
Tax-deductable donations to adopt-a-tree in San Rafael can be made in one of two ways:
Mail a check payable to Sustainable San Rafael, with "Adopt-a-tree" in the memo line, to: Sustainable San Rafael, 166 Greenwood Avenue, San Rafael, CA 94901
Give by credit card at SustainableSanRafael.org. Click the Contribute tab and follow instructions. Check the "Contribution only" and "Other amount" boxes, and write "Adopt-a-tree" in the Snail Mail box.
Be a part of San Rafael's largest single-day tree planting event!  It is all in partnership with the City of San Rafael, Harbor and Terra Linda Rotary Clubs, Cal-Fire, California Climate Investments, West Coast Arborists, Western Chapter of International Society of Arboriculture, California Urban Forests Council, Invest From the Ground Up, Cool Parks, Resilient Neighborhoods, Sustainable Marin, and Sustainable San Rafael.