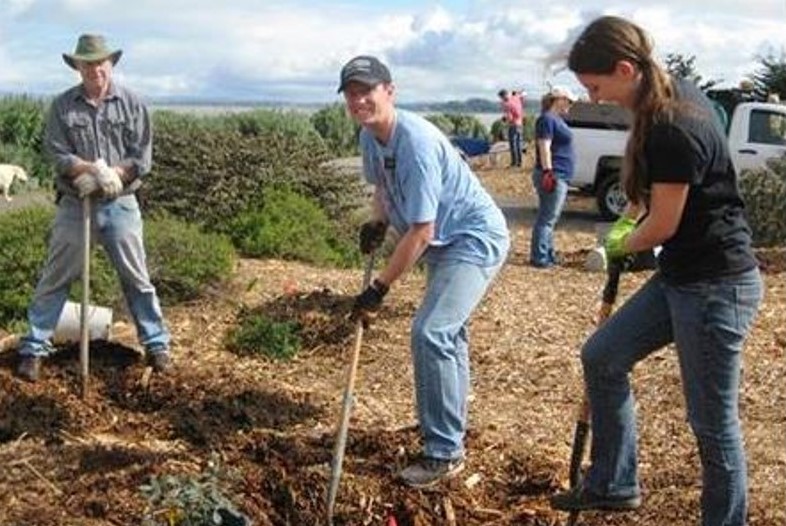 Be a part of San Rafael's largest single-day tree planting event!
Join us to plant 100 beautiful, carbon-capturing trees in San Rafael on March 28
Here's how to help:
Volunteer to plant, mulch and water, March 28, 8:30 am, McInnis Parkway.
NOTE: we need tree leaders! Let us know if you can arrive 30 minutes early to learn how to oversee planting of trees.
Adopt-a-tree. Donate funds to water the trees for the first few years until they are established. (Any amount will help meet the goal of $500 per tree. See donation details below. Thank you!)
COVID-19 update:
At this time, we intend to go forward with the tree planting on March 28. We will provide hand sanitizer and will organize folks to minimize contact. To prevent the spread of the coronavirus and protect the health of all our volunteers and workers we respectfully ask the following:
If you have symptoms of any sort of illness, we ask that you not attend even if you signed up ahead of time
If you are in a high risk category as defined by the CDC, please do not attend
We ask that those who participate come prepared to keep a safe social distance during the event and take precautions to limit contact with others. Please bring your own gloves.
Please check back regularly as conditions may change between now and the planting day.
More novel coronavirus info and updates can be found on the City's Coronavirus web page.
Event Information:
Come to McInnis Parkway, across the street from the Embassy Suites hotel, for the Planting, March 28, 8:30 a.m.
Please bring your own work gloves, a water bottle, sunscreen and a hat. And if you have any, please consider bringing a shovel or two.  We'll have hand sanitizer available and will provide tools and guidance.
We'll start with volunteer sign-in, refreshments, and a dedication. Most of the trees will be planted along McInnis Parkway, and some volunteers will disperse to the Canal District to plant about 1/3 of the trees.  The City of San Rafael will have already bored the holes, and Cool Parks will have delivered the trees.  Depending on the number of volunteers, we will be done about lunchtime or early afternoon.
Everyone is encouraged to RSVP ahead of time so we know how many to plan for. Please sign up at SanRafaelVolunteers.org to RSVP.  (note: you will need to create a user account or log in to sign up)
Tax-deductible donations to adopt-a-tree in San Rafael can be made in one of two ways:
Mail a check payable to Sustainable San Rafael, with "Adopt-a-tree" in the memo line, to: Sustainable San Rafael, 166 Greenwood Avenue, San Rafael, CA 94901
Give by credit card at SustainableSanRafael.org. Click the Contribute tab and follow instructions. Check the "Contribution only" and "Other amount" boxes, and write "Adopt-a-tree" in the Snail Mail box.
It is all in partnership with the City of San Rafael, Harbor and Terra Linda Rotary Clubs, Cal-Fire, California Climate Investments, West Coast Arborists, Western Chapter of International Society of Arboriculture, California Urban Forests Council, Invest From the Ground Up, Cool Parks, Resilient Neighborhoods, Sustainable Marin, and Sustainable San Rafael.
See you there!