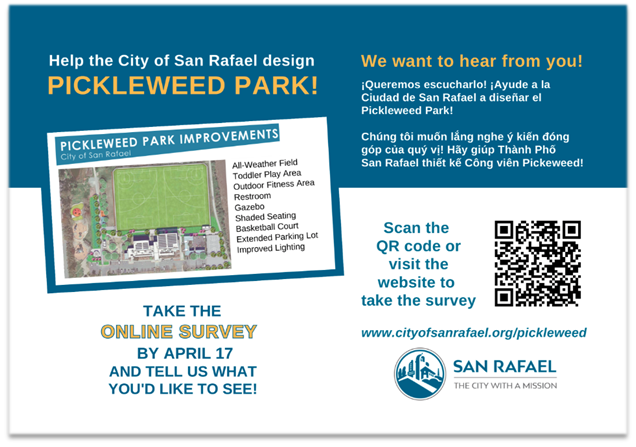 Written by: JC Agcaoili, Assistant Engineer
The Library & Recreation and Public Works Departments invite the community to share their input on what they'd like to see included in our upcoming Pickleweed Park Improvements project.  Our survey is now live on our City website and will be available through April 17th, 2023.
Both City Staff and the City's design consultant for the project, Gates + Associates, will be attending two upcoming outreach meetings where community input can also be shared:
April 1st: Easter Egg Hunt conducted by Voces del Canal starting at 10AM near the Picnic Area of Pickleweed Park.
April 8th: Easter Egg Hunt conducted by the Canal Youth & Family Council starting at 10AM in the Gymnasium of the Albert J. Boro Community Center.
We look forward to meeting with the community at these events and gathering everyone's feedback.  The community input will be shared at our Park and Recreation Commission meeting on April 20th, 2023.