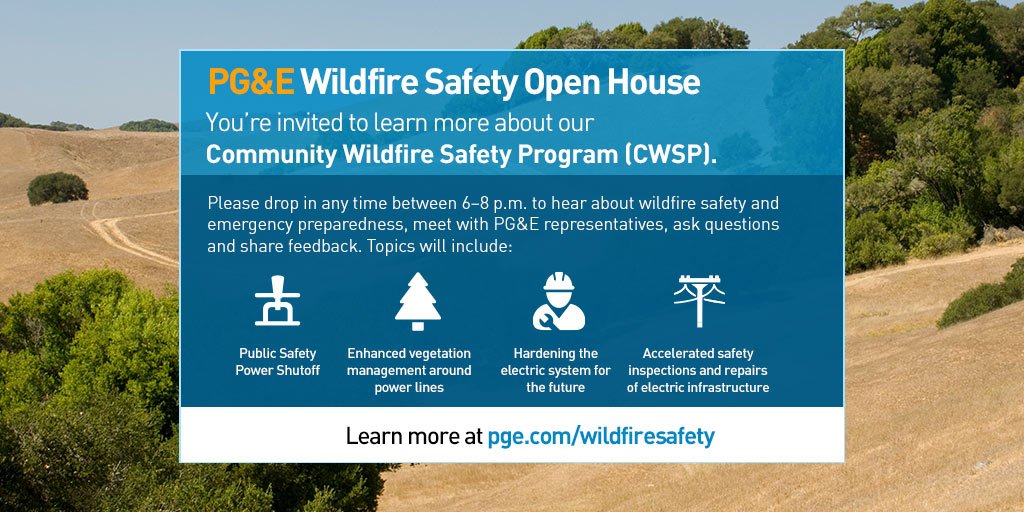 PG&E is hosting a series of regional open houses throughout our service area for anyone who is interested in learning more about our Community Wildfire Safety Program. These drop-in gatherings will allow community members to learn more about wildfire safety and emergency preparedness, meet with PG&E representatives, ask questions and share feedback. Webinars will be available for those who are unable to attend an event in person.
Download webinar instructions in English or Spanish if you are unable to attend the open house.
NOTE: All regional open houses will be held from 6 – 8 p.m. Information regarding webinar login will be provided closer to the event.
When: July 30, 2019
Time: 6-8 p.m.
Where: Embassy Suites San Rafael
Mill Valley and Sausalito Ballrooms
101 McInnis Parkway
San Rafael, CA
_________________________________________________________________________________________
Entrenamiento por PG&E para aprender sobre la seguridad contra incendios forestales. – 30 de Julio, 2019 – San Rafael
PG&E está organizando una serie de entrenamientos para cualquier persona que esté interesado en aprender más sobre nuestro Programa de Seguridad Comunitaria contra Incendios Forestales. Estas reuniones permitirán a los miembros de la comunidad aprender más sobre la seguridad contra incendios forestales y preparación para emergencias, reunirse con representantes de PG&E, hacer preguntas y compartir comentarios.