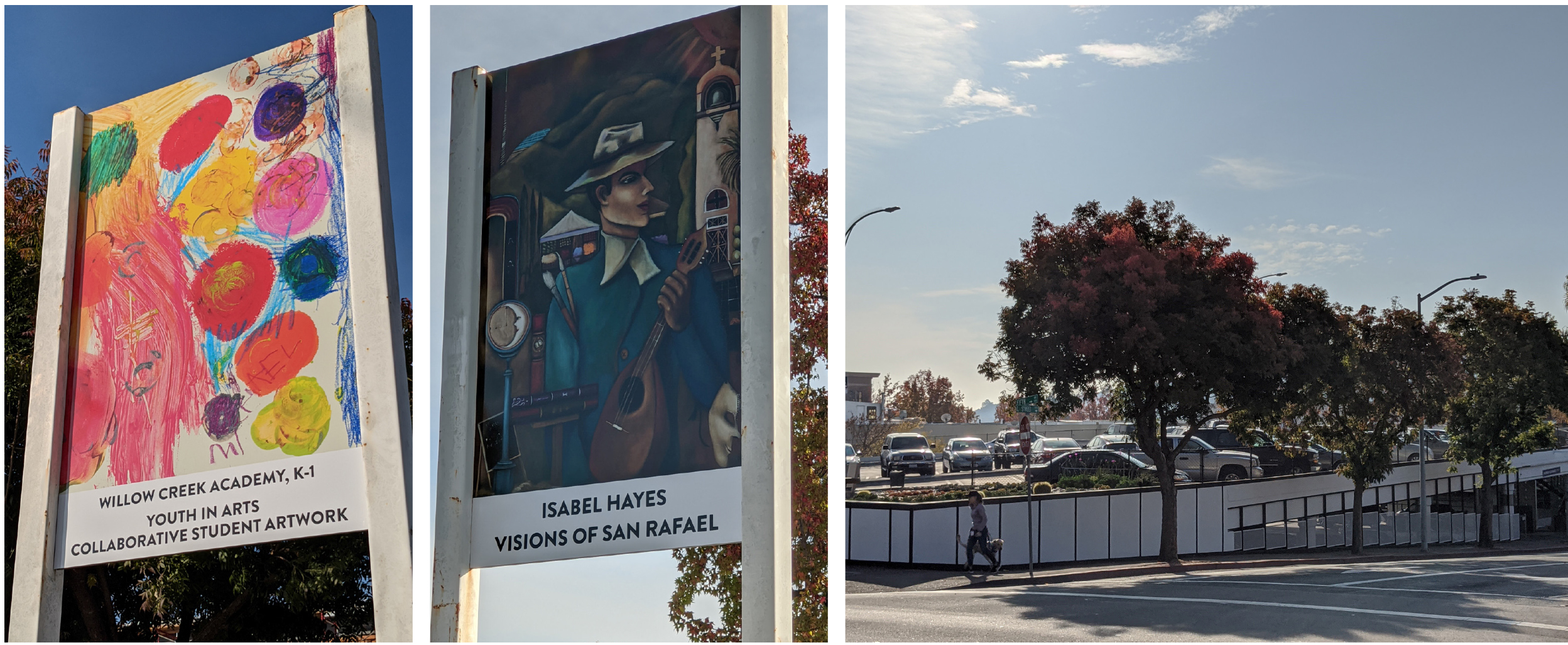 San Rafael's Parking Services division recently completed the rehabilitation of the parking lot at Fifth Ave and C Street, including local public art, new landscaping, and a new modern paint job designed in collaboration with Fox and Kit business owners Kyoko and Devin Westberg. As part of the project Parking Services staff teamed up with the Downtown San Rafael Arts District to display artwork from six local artists after a Call for Artists competition launched this Summer. Artwork will rotate every six months on either side of the sign on the corner of Fifth Avenue and C Street.
"We wanted to use the space to highlight Downtown San Rafael's designation as a Cultural Arts District and thought reusing the parking sign was the perfect opportunity since the top level is currently employee parking while the new Public Safety Center is being built. The vision expanded and we were lucky to collaborate with local businesses and the local art community to create a refreshed look that showcases local talent and our creative community," said Parking Services Manager Jim Myhers. "This wouldn't be possible without the tireless efforts of Crystal Kubala who worked closely with the Downtown San Rafael Arts District, Kyoko and Devin Westberg, painters, and local businesses to realize this vision."
The public art showcase includes 2 art pieces at a time which will rotate every 6 months with one side devoted to local youth artists. The first two pieces include "Visions of San Rafael" by Isabel Hayes and a collaborative art piece done with Willow Creek Academy students and Youth in Arts.
The first stage of parking garage improvements were done in coordination with Parks Supervisor Aaron Tubs and Greg Kelly of Parking services who created a water wise succulent garden to complement the modern, paint design from Fox and Kit owners Kyoko and Devin Westberg.
This isn't the first time Parking Services has collaborated with local artists. Youth in Arts and Parking Services showcased youth artists in garages in the past. "A parking garage isn't the first place you would think to find art but these public spaces have a lot of visitors and we are excited that we have the opportunity to both improve the look of our garage and celebrate local artists at the same time," Myhers said.