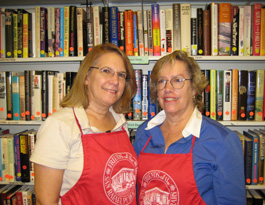 Pam Dixon has been selected as the recipient of the Citizen of the Year award due to her community involvement and support of the San Rafael Library.
Pam has been a resident of San Rafael for thirty years, and has been actively involved with the Friends of the Library for eleven years, including service as president or vice president for eight years.
Pam has brought an impressive set of professional and leadership skills, an ability to recruit and motivate volunteers and an incredible work ethic to her involvement.
Through Pam's efforts, the Friends' book sales have been transformed in terms of public interest and financial return, they have contributed a self-checkout machine, provided the down payment on a modular building to further their activities, pledged $20,000 towards the purchase of popular book titles, and pledged to raise $100,000 over two years to replace the Library's reduced book-buying budget.
Pam's community involvement has been characterized by her passion, dedication to her community, and humility.
The San Rafael City Council expresses its appreciation to Pam Dixon for her efforts on behalf of her community and hereby awards her the Richard O'Brien and the Mary Ferrario O'Brien Citizen of the Year Award.