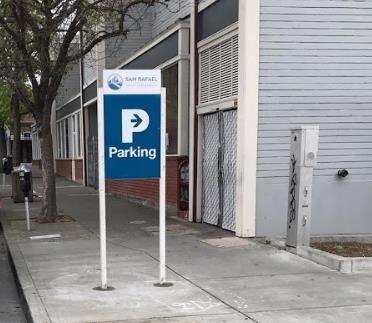 Have you noticed the new parking lot signs around town? Streets Maintenance Crews received the first parking lot sign work order from Parking Services to install our beautiful new parking lot signs! The sign pictured is at the 3rd and Cijos Street lot.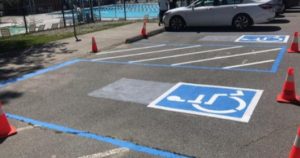 You may also notice the revamping of fresh paint in our handicap parking spaces. Pictured, is the Terra Linda Recreation Center. As the weather gets increasingly nicer and the rain becomes a distant memory, crews will be laying down new paint, such as this, in addition to updating
red curbs and striping throughout the City.
Curb colors—what do they mean, again?
No Color: Parking allowed, unless restricted or limited by signs.
Blue: Parking for the disabled only. Motorists must have a disabled person parking placard (typically hanging on the rear-view mirror) or disabled person or disabled veteran license plate.
Green: Parking allowed for a short time. The time is usually shown on a sign next to the green zone or may be painted on the curb. Green curb can also be used for student loading zones, if accompanied by the appropriate signs.
Yellow: Stop only long enough to load or unload passengers—no longer than posted. Drivers are usually required to stay with their vehicle.
Red: No stopping, standing, or parking. A bus may stop at a red zone marked for buses. Red is also used to designate fire lanes at schools or "No Parking" areas. In case you didn't know, City vehicles are not exempt from red curbs.
Curb parking signs provide information that supplements curb markings. For example, parking time limits printed on a curb sign can reinforce the green paint designating that parking is allowed for a limited time.
*City pool vehicles are not exempt from the above parking restrictions.