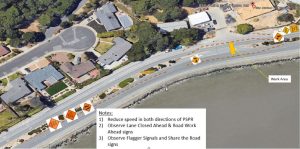 WHAT: TEMPORARY Lane Closure during site improvements at Fire Station 55. A temporary eastbound closure will be necessary to install a new water connection for the fire sprinkler system in coordination with Marin Municipal Water District. Also, there will be a flagger directing traffic West bound. PLEASE REDUCE YOUR SPEED DURING THIS TIME.
WHY: To maintain bike riders' safety, to maintain Fire Department response times, and to accommodate the needs of the construction project.
WHEN: Limited work, like potholing and surveying, will occur from November 21 to November 23. Major excavation and trenching work will start after the Thanksgiving Holiday, on November 28. The work will take approximately 3-4 weeks. Lane closure will occur on weekdays between 9AM and 4PM**.
WHERE: Point San Pedro Road between Peacock Drive and Knight Drive
WHAT TO DO: Cross safely at the designated crosswalks per the current established configuration. Bike riders to use extreme caution while approaching the work area and observe all traffic and flagger signals.
Your safety is our top priority! Please observe all project safety caution signs, barricades, and personnel.
For Fire Station 55 Renovation Project details, visit https://www.cityofsanrafael.org/fire-station-55-renovation/
CONTACT INFORMATION:
Public Works Main Line: 415-485-3355;
Fabiola Guillen-Urfer: 415-483-3435
**Estimated schedule may be subject to change.