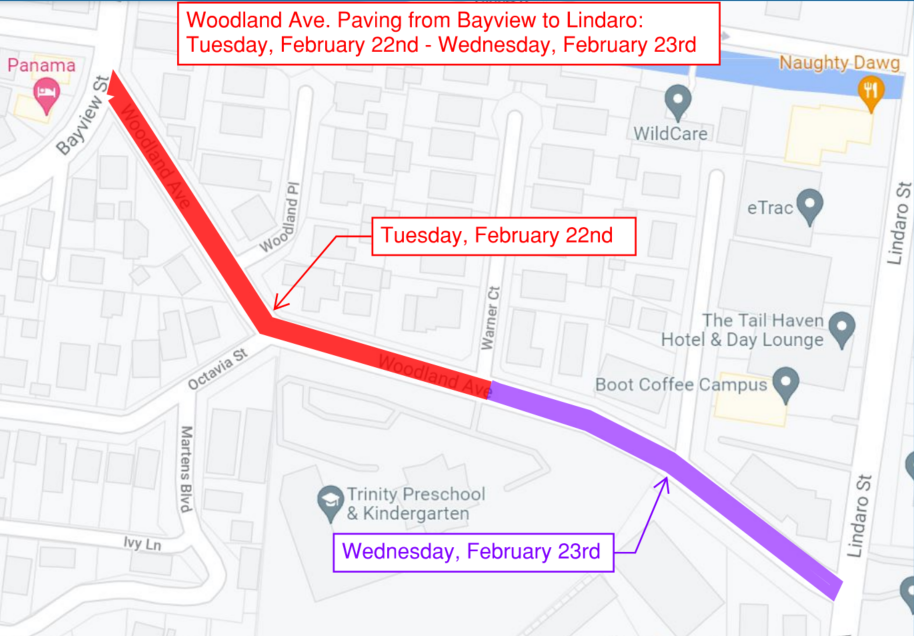 The City's contractor, Ghilotti Bros Inc., will be paving Woodland Avenue from Bayview Street to Lindaro Street next week.  The paving will begin on Tuesday, February 22 through Wednesday, February 23 from 7 am to 5 pm.  The work has been split into two days to allow continued access to Trinity Preschool.   Both Davidson Middle School and Laurel Dell Elementary will be out for mid-Winter Break for the full week.  Please understand that this timeframe is approximate, and we will try to reduce the timeframe of the closure as much as possible. Please note: these dates and times are subject to change due to weather conditions.  
Flaggers and traffic control signs will be used to help direct traffic at all times. Please follow all posted directional signs and traverse with caution. Emergency vehicles will be accommodated at all times. 
If you have any questions or concerns, please contact Billy Casey 415-760-0251.