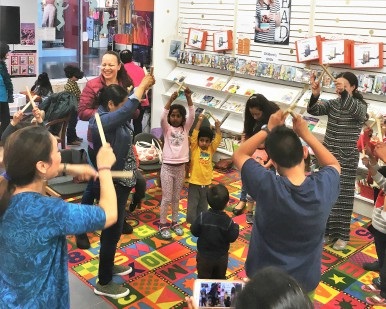 Collaborative effort to remain open through at least April 2020
The temporary and experimental pop-up library at the Northgate mall in San Rafael has been such a success, the three partnering agencies have agreed to keep it open through April 2020.
Created in December 2018 as a special holiday season treat for shoppers and other mall visitors, the branch was a collaboration between the Marin County Free Library (MCFL), the San Rafael Public Library and the mall owner, Merlone Geier Partners.
"Based on the success of the initial month-to-month pilot, and thanks to the support of Merlone-Geier Partners, we have extended our agreement," said Henry Bankhead, Interim Director of the San Rafael Public Library. "We have created a partnership between local governments and local business to re-imagine public space and create free, easy access to a world of information and experiences."
Merlone Geier Partners provided the 3,000 square feet of space, a former shoe store that is just a few steps from the food court and movie theater. It is stocked with materials initially supplied by MCFL, and it is staffed primarily with personnel from the San Rafael Public Library.
"We are thrilled our expanded service experiment has been such a tremendous success," said MCFL Director Sara Jones. "We are reaching new library patrons and strengthening and expanding our collaboration and library services with the San Rafael Public Library. We especially appreciate the mall's support as a full partner in a project that greatly benefits all."
Patrons may check out books and other media, pick up items on hold, drop off checked-out materials, use the 3D printer, experience virtual reality, and participate in some other programming options.
The library hours are Mondays, Wednesdays and Thursdays from 1 to 8 p.m. and Fridays through Sundays from 1 to 5 p.m. The popup library also hosts a regular family story-time on Wednesdays at 2:30 p.m. and bookclub discussion on Thursdays once a month.