Northgate Walk
1005 & 1010 Northgate Dr.
Address: 1005, 1010, 1020 and 1025 Northgate Drive
Project No.:  ED16-038, UP16-018, S16-001,
                             LLA16-003,  PTA 16-001
Applicant: Peter Stackpole, LCA Architects
                         590 Ygnacio Valley Rd, Suite 310
                         Walnut Creek, CA 94596
                         (925) 944-1626
Project Planner: Steve Stafford
                                      (415) 458-5048
                                     steve.stafford@cityofsanrafael.org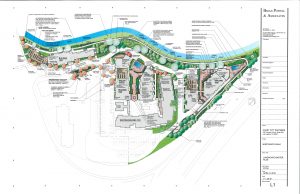 Project Description
The project has been revised The City has received an application proposing to redevelop and subdivide two contiguous parcels, currently developed with an existing commercial building and gas station use (1005 Northgate Dr.; APN: 178-240-17) and an existing multi-room hotel building (4 Point Sheraton at 1010 Northgate Dr.; APN: 178-240-21).
The project proposes to demolish the existing commercial building and gas station and construct a new 5-story, 42-unit, residential condominium building on that portion of the site.
The project also proposes to demolish the existing hotel 'amenities' (restaurant, meeting rooms, etc.) building and construct two (2) new 5-story, residential condominium buildings with 66 and 74 units, respectively.
Total units proposed on both sites is 182 units, made up of 140 condominium, 1, 2 and 3 bedroom units, and 42 senior units.
Current Status
On April 14, 2016, formal applications were submitted to the City for the proposed new development. At this point, the City is reviewing the project plans and studies to review and understand the the project scope and determine completeness of the application.
A Neighborhood Meeting was scheduled and occurred on Wednesday, May 18, 2016 at 6pm. The purpose of this meeting was for the applicant to present the project to the community and answer questions and solicit feedback on the application. This neighborhood meeting was conducted at the Four Points Sheraton, Marin Ballroom, at 1010 Northgate Dr. This was not a city sponsored meeting, but rather a meeting the City requires that applicants for large development proposals conduct to present their project to the community, answer questions and solicit feedback. The City was in attendance to take notes on the comments. Approximately 200 persons were in attendance and the general feedback was opposition and concern with the development, primarily related to the scale and mass of the proposed development and potential impacts on traffic and schools.
Once the application is deemed complete for processing, the project will be reviewed by the Design Review Board (DRB) and Planning Commission. Notices of these meetings will be mailed 15 days in advance and posted on the project site and published in the Marin IJ.  There is no ETA on the public meetings at this point.
On July 1, 2016, revised project plans were submitted by the applicant in response to the incompleteness letter. Plan revisions and additional technical studies were submitted. These revised plans were distributed to city department and outside agencies on July 5th, for their review and comment.