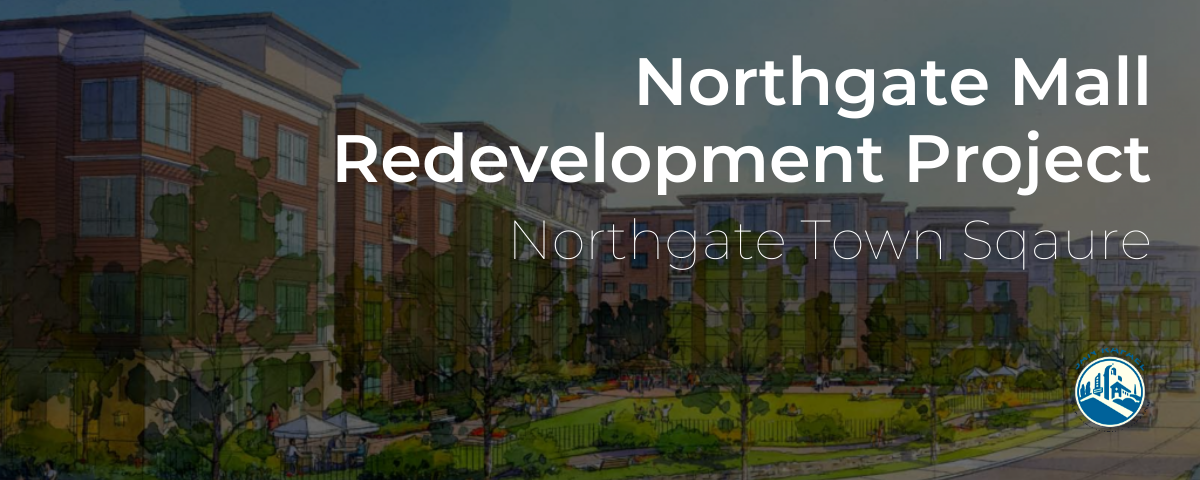 Project Description

The Northgate Mall Redevelopment project proposes a comprehensive redevelopment of the existing Mall into an open-air 'main street experience', surrounded by mixed-use development of retail and approximately 1,320 residences. The Project proposes to reduce the existing commercial retail from 775,677 sq. ft. to 246,677 sq. ft., and construct six (6), five (5)-story high-density multifamily residential building. The project requests 24' height bonuses for the new residential buildings with a total height of 60' each. The project proposes to provide 5% affordable housing plus an additional unspecified affordable component (either additional low-income units, an increased number of moderate-income units, or an in-lieu fee).

The redevelopment of the almost 45-acre Northgate Mall into a mixed-use development with a town center and housing units is a unique opportunity for the City to re-envision a 1960s standard mall development into a vibrant mixed use community, including the provision of 1,320 residential units on what has been identified as an opportunity site in the 2015-2023 Housing Element. Due to the importance of the project and the project site, staff is working with the project applicant on how the design and layout of the project can be optimized to best contribute to the creation of a vibrant and successful long-term project that blends with and enhances the fabric of the surrounding neighborhood and the City as a whole based on feedback from the Planning Commission, Design Review Board, and the community at the September 14, 2021, Study Session.
Project Status

The project has been revised and resubmitted. It has been referred to all the appropriate city departments, non-city agencies and homeowners groups.

Revised Application + Plans

June 2021
Original Application + Plans
Project Meetings

The Planning Commission and Design Review Board held a joint study session on Tuesday, September 14th at 7 p.m. You can view a recording of the session on the  City's YouTube Channel. You can also view the staff report at this link.

This Study Session was an opportunity for early Planning Commission and Design Review Board project feedback on land use and design and allowed early opportunity for public input.  No decisions or official action on the project were made.

The applicant is in the process of revising project plans in response to this feedback. The City is beginning the Environmental Impact Report (EIR) process and a Notice of Preparation (NOP) will be sent to interested parties over the next few months. A public scoping meeting will be held during the NOP process. The NOP allows interested parties to comment on what should be studied in the EIR.

The City will keep interested parties informed of major milestones.

If you have questions or comments about this project, please submit them to Project Planner, Tricia Stevens.