FOR IMMEDIATE RELEASE
Jim Schutz
City Manager
415-485-3070
Jim.Schutz@cityofsanrafael.org
San Rafael Hires New Director of Digital Service and Open Government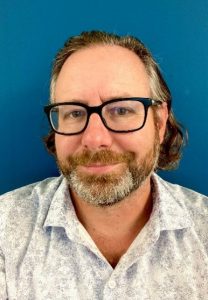 San Rafael, CA – Following a nationwide search, the City of San Rafael is pleased to announce Sean Mooney as the new Director of Digital Service and Open Government effective September 16, 2022. Sean brings with him years of experience most recently serving as the City's Civic Design Manager. In that role, Sean helped establish the strategic vision for the Department, managed the department's budget, led user experience research, and supported digital transformation projects Citywide. Sean developed the City of San Rafael's public information strategy in the response to COVID-19, and managed technology projects for the construction of the Public Safety Center and Fire Stations 52 and 57.
Prior to his role at San Rafael, Sean was the Community Engagement Supervisor at the City of Mill Valley managing strategic communications and IT resources for the City. Sean has worked in public libraries and as a public-school teacher in New York City. He holds a bachelor's degree in History from University of California Berkeley and a Master of Science in Education from Fordham University.
"Digital has the unique role of helping Departments use data-based decision making to improve service delivery ensuring our government works for all. Sean brings the experience we need to bridge the digital world with our government, and we are thrilled that he will continue to share his passion for the work with all of us here in San Rafael," said City Manager Jim Schutz.
As Director of Digital Service and Open Government, Sean will oversee all aspects of the department, working across all city departments, and with organizations outside the City government to effectively meet the needs of departments, employees, and our community.
"Local government is on the front lines of the existential challenges facing our society and San Rafael is no exception. Like so many larger cities, we are responding to the impacts of climate change and sustainability, housing and homelessness, economic recovery, and racial equity. I'm honored to have the opportunity to work alongside the incredible team at San Rafael as we tackle these challenges and transform the way we serve the public," Sean said.
The nationwide recruitment was conducted by the executive search firm Wendi Brown Creative Partners (WBCP). Sean's starting salary will be $13,151 per month.