FOR IMMEDIATE RELEASE
Cristine Alilovich
City Manager
415-485-3070
cristine.alilovich@cityofsanrafael.org
San Rafael Hires New Assistant City Manager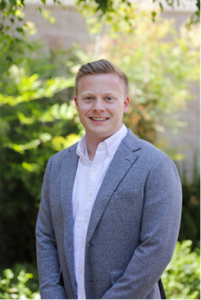 San Rafael, CA – July 26, 2023 – The City of San Rafael is pleased to announce the hiring of John Stefanski as Assistant City Manager, effective July 31st.
With nearly a decade of local government service, John brings a wealth of experience and a proven track record of successfully delivering citywide projects and driving innovation. As Assistant City Manager, John will directly oversee Emergency Management, Library & Recreation, Sustainability, and Parking Services. In addition to his core responsibilities, John will serve as the project lead for special citywide projects and initiatives.
City Manager Cristine Alilovich said, "John is an excellent addition to our leadership team. I have full confidence in John's ability to drive the City's innovation efforts and continue improving our service delivery to the community.  I look forward to working closely with him as we continue to move San Rafael forward."
John holds a Master of Public Administration degree from the Maxwell School of Citizenship of Public Affairs at Syracuse University and a Bachelor of Arts in Public Administration from Miami University. His extensive experience includes serving as the Assistant to the City Manager for the City of Dublin, CA, where he successfully managed budgets, led organizational innovation efforts, and built strong community and intergovernmental relations.
Throughout his career, John has demonstrated a commitment to mentorship and professional development, serving as the current President of the Municipal Management Association of Northern California (MMANC) and co-creating the MMANC UpNext Program, aimed at supporting the next generation of local government leaders.
John said, "I am honored for this opportunity to serve the City of San Rafael as Assistant City Manager. I'm excited to join Cristine and her team as we work together to enhance the quality of life and provide for a safe, healthy, prosperous, and livable City for our residents. San Rafael is an exceptional organization, and I am committed to building upon this reputation in partnership with our outstanding staff and our vibrant community."
The nationwide recruitment was conducted by executive search firm, Bob Murray & Associates. John's starting monthly salary will be $16,849.