The County is drafting a Reusable Foodware Ordinance to create consistent business waste reduction and composting requirements across Marin. The  Ordinance will help the County and San Rafael comply with state law SB 1383, which will make composting a requirement for businesses across the state, while also meeting the overwhelming demand of customers who want alternatives to single-use plastic containers.
The City and County want to make sure we  draft the Ordinance well so it meets business needs while also accommodating our County's green ethic. We've set up a short survey to gather as much feedback as possible from local businesses — we want to know how this law will affect you!
Click here to answer a short 3-minute survey to provide your input and help guide the process!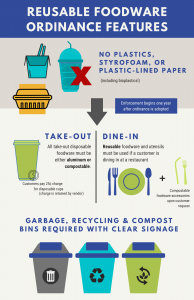 For more detailed information on the Reusable Foodware Ordinance, including information on the timeline for rolling out the Ordinance and the grant program available to help businesses comply, see this page on the County's website.