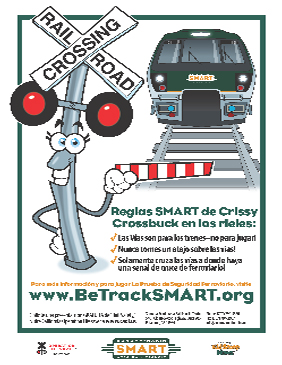 National Rail Safety Week is September 23-29. Please take some time this week to talk to your family about rail safety. Rail safety is everyone's responsibility. Check out the safety tips below to increase rail safety:
Never walk on the tracks—it's dangerous and illegal.

Wait for the gate. Pay attention to signs and signals at railroad crossings. Wait for the bells and lights to stop, and for the gates to rise before crossing the tracks.

Distractions are dangerous. Stay alert and aware near tracks, trains and at station platforms. Don't be distracted by cell phones, texting and headphones.

Don't risk it. Drivers should never rush through railroad crossings to avoid waiting. Never stop your car on the tracks—drive through crossings only when you can make it safely through to the other side.
For more information, visit http://betracksmart.org/.