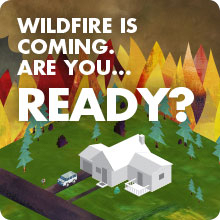 Currently, 19 local fire agencies provide fire protection and emergency response services to communities in Marin County, but there is no single coordinating agency for wildfire prevention. The Marin Wildfire Prevention Authority (MWPA) initiative, which was conceived by a collaborative countywide effort among jurisdictions across Marin County, would allow local fire agencies and emergency service providers, city and town governments, and the County of Marin to work together as a single coordinated Joint Powers Authority (JPA) to develop and implement a comprehensive wildfire prevention and emergency preparedness initiative, which includes the following:
Wildfire detection and evacuation system improvements
Vegetation management and fire hazard reduction
Defensible space and home hardening evaluations
Public education and neighborhood wildfire preparedness
Local specific wildfire prevention efforts
At their September 24, 2019 meeting, the County of Marin Board of Supervisors adopted a resolution authorizing the County to officially form and participate in the new Marin Wildfire Prevention Authority (the joint powers authority). The remaining 18 local fire agencies, including the City of San Rafael, will have an opportunity to join the Marin Wildfire Prevention Authority by adopting a resolution to enter into a joint powers agreement during their respective legislative bodies' public meetings.