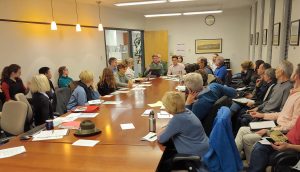 Tomorrow night, Thursday, October 17 is the quarterly Climate Action Plan Implementation Forum at City Hall.
This month we have some really important and timely topics, including:
Green Building Reach Codes – the county-wide plan to move us closer to zero emissions buildings
County-wide Fire Prevention planning – how San Rafael is partnering with other fire agencies to build fire resiliency in Marin
Student Extreme Heat Preparedness Plan – how MSEL Students are developing a meaningful plan for climate effects
Meet the new Resilient Neighborhoods Executive Director – and hear about RN's recent successes
City CCAP Early Actions Update – including the launch of the first reusable takeout food container project in the Count
This Thursday, October 17, 4 – 6 p.m.
The action starts at 4pm and usually goes until 6. Come one, come all to the San Rafael City Hall, 3rd floor conference room. All voices are welcome!