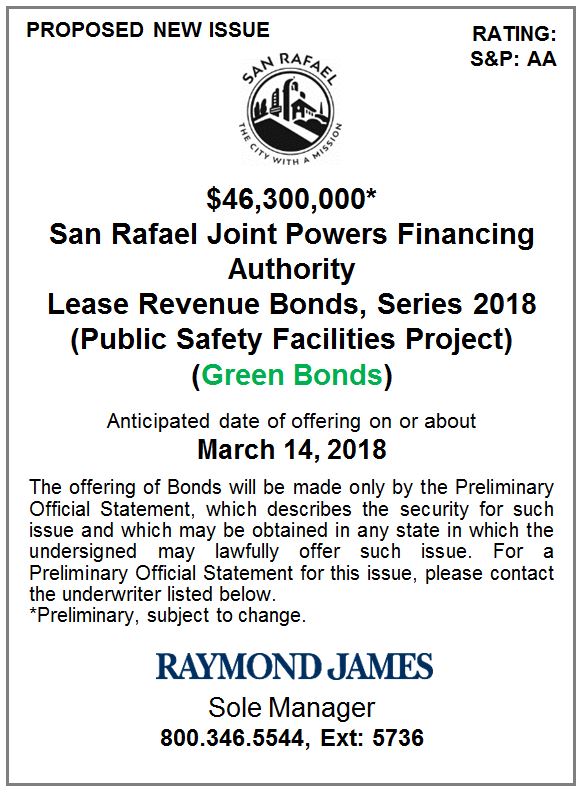 $46,300,000*
San Rafael Joint Powers Financing Authority
Lease Revenue Bonds, Series 2018
(Public Safety Facilities Project)
(Green Bonds)
Anticipated date of offering on or about
March 14, 2018
The offering of Bonds will be made only by the Preliminary Official Statement, which describes the security for such issue and which may be obtained in any state in which the undersigned may lawfully offer such issue. For a Preliminary Official Statement for this issue, please contact the underwriter listed below.
*Preliminary, subject to change.
Raymond James, Sole Manager
800.346.5544, Ext: 5736
The City of San Rafael anticipates issuing approximately $46,300,000* of tax-exempt Green Bonds on or about March 14, 2018*, through our underwriter, Raymond James & Associates,  Inc.
The Bonds, which are being issued to finance the replacement of Fire Stations 57 and 52 and the construction of a new Public Safety Center,  are  rated AA by Standard & Poor's. The Bonds will mature serially from June 1, 2021, through June 1, 2034*, and will pay interest semi-annually each June 1 and December 1. Please consult the Preliminary Official Statement for further details.
We have arranged with Raymond James to provide priority to City residents, meaning that City residents who submit orders for the Bonds to Raymond James on the sale date (tentatively March 14, 2018) will be given "first crack" at the Bonds.
This notice is not an offer to sell or a solicitation of an offer to buy the Bonds. The Bonds may only be purchased through Raymond James and the Preliminary Official Statement dated March 6, 2018.
For further information, please contact Clinton Graves at  Raymond James at 800.346.5544, Ext: 5736.  If you do not have an account at Raymond James and/or do not wish to open an account, please contact your financial advisor and have them contact the Raymond James representative indicated above.
*Preliminary, subject to change. This is neither an offer to sell nor a solicitation to buy any security. A credit rating of a security is not a recommendation to buy, sell or hold securities and may be subject to review, revisions, suspension, reduction or withdrawal at any time by the assigning rating agency. A decision to purchase the Bonds is an investment decision that should only be made after a complete review and understanding of the terms of the Bonds, including investment risks. No decision should be made prior to receipt and review of the Preliminary Official Statement and applicable pricing information. Raymond James & Associates, Inc., member New York Stock Exchange/SIPC. Raymond James & Associates, Inc. is a subsidiary of Raymond James Financial, Inc. and affiliated broker/dealers utilizing the trade name Raymond James.