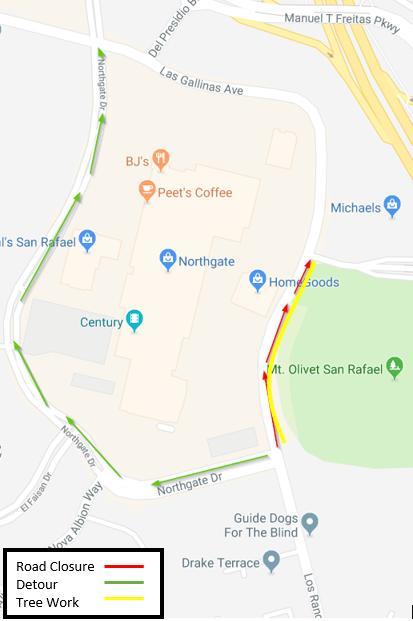 On January 10 and 11, the City's tree contractor, Treemasters, will be closing the northbound lane on Las Gallinas Avenue between Northgate Drive and Merrydale Road to perform safety tree maintenance work. Work will be performed between 7 AM and 3 PM. The southbound lane will remain open during this time for southbound travelers. Detour signage will be provided at the north end of Los Ranchitos Road to notify drivers of the closure.
Detour: Traffic heading northbound on Las Gallinas Avenue will be diverted left onto Northgate Drive around the Northgate Mall.
Access for emergency vehicles will be accommodated.
Visit our Public Works homepage: www.cityofsanrafael.org/DPW
Read recent DPW News: www.cityofsanrafael.org/dpwnews
Send us a message: www.cityofsanrafael.org/contactDPW
Call us: (415) 485-3355