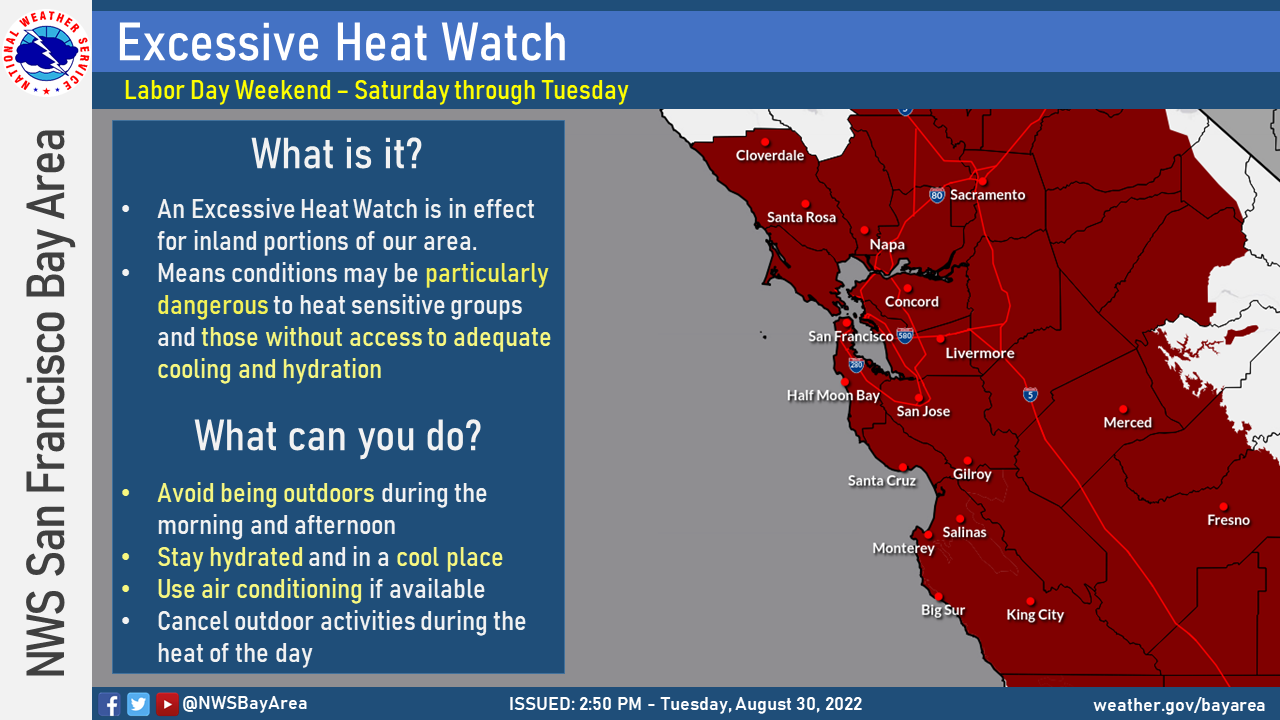 Marin County, including the City of San Rafael, has received an Excessive Heat Warning from the National Weather Service (NWS) for this upcoming holiday weekend. While forecasts may continue to change, temperatures in the mid to high 90s are likely. In addition, a Flex Alert was issued by California ISO for Wednesday 8/31. Additional flex alerts are likely over the coming week. Flex alerts are issued to encourage the conservation of energy in order to reduce the need to rotating power outages.
The County Emergency Portal will be updated as more information about the forecast and resources becomes available. If you haven't already- please bookmark the Emergency portal for future reference as well: emergency.marincounty.org
NWS issues alerts and warnings to ensure community members are prepared and ready to take action in severe weather. Marin County Public Health offers resources and tips on how to stay safe during extreme temperatures at https://www.marinhhs.org/staying-cool-safe-warm-weather. Vulnerable residents should:
Plan ahead
Prepare for power outages
Have a buddy system: During a heat wave, check on medically vulnerable family members, friends, neighbors, and co-workers.
Wear lightweight light-colored clothing
Stay hydrated.
If possible, go to a cool place like a mall, library, or movie theater for relief from the heat.
Residents can also Learn How to Create an Energy Efficient Home and keep their homes cool. This website also provides cooling tips and warning signs for heat-related health issues.
The following is a link to a short video briefing regarding the upcoming heat event expected to last through Labor Day weekend: https://youtu.be/JLIR5AwOcVo