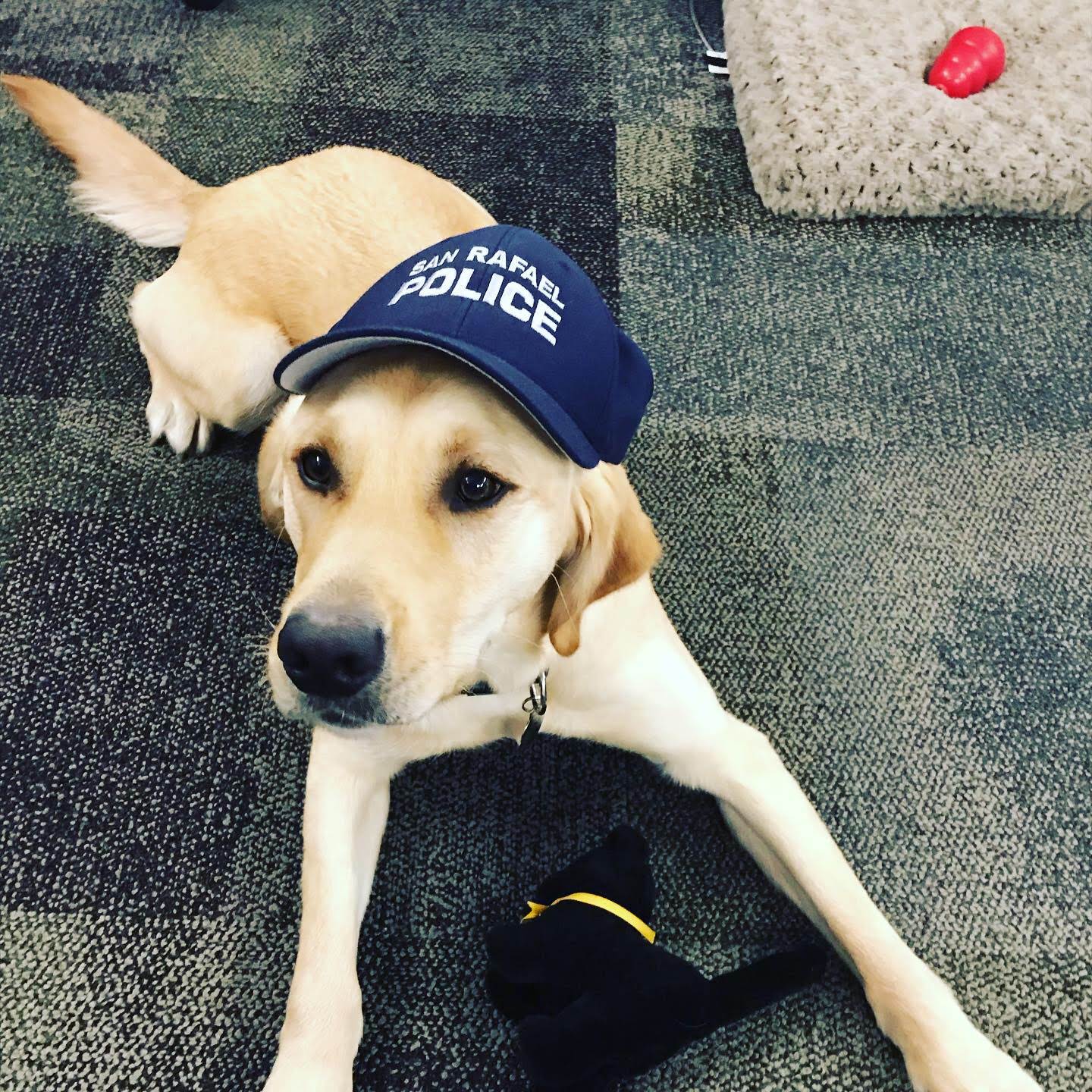 On November 18, 2019 SRPD officially welcomed our newest member, K9 Blue. Blue is partnered with Mental Health Liaison Lynn Murphy. His official title is: Comfort Dog. Blue is a two-and-a-half-year-old Yellow Lab/Golden Retriever mix. He began his life at Guide Dogs for the Blind (GDB) and served his client for a year as a Guide Dog. He was unable to continue in this role and became a "career change dog."
Several months ago, we had contacted Guide Dogs for the Blind because we had heard they had occasionally provided comfort dogs visits for a 9-1-1 dispatch  center in Marin. This was not true, but it started a conversation. They mentioned a program their Oregon campus was exploring with Portland Police Bureau. The idea was to pair a career change dog with an officer who worked with their mentally ill population in downtown Portland.
Fast forward. GDB Dog Placement Manager James Dress did a "walk-along" with Lynn to see what she does each day to determine the type of dog best suited for her work. It took a while to find a candidate. Blue (full name Blue Bayou) was at GDB in Boring, Oregon. He was brought to San Rafael to meet Lynn and her family.
After a couple of weeks of getting to know one another (and most of the SRPD family) Blue and Lynn started their partnership. Lynn has already noticed the positive effect Blue has on members of our community who suffer from mental illness and others who in the past were hesitant to interact with her. Blue has beds in the Dispatch and Records areas of the department. He is very popular with the staff.
We are indebted to Guide Dogs for the Blind. Blue is a gift to our community and our department.