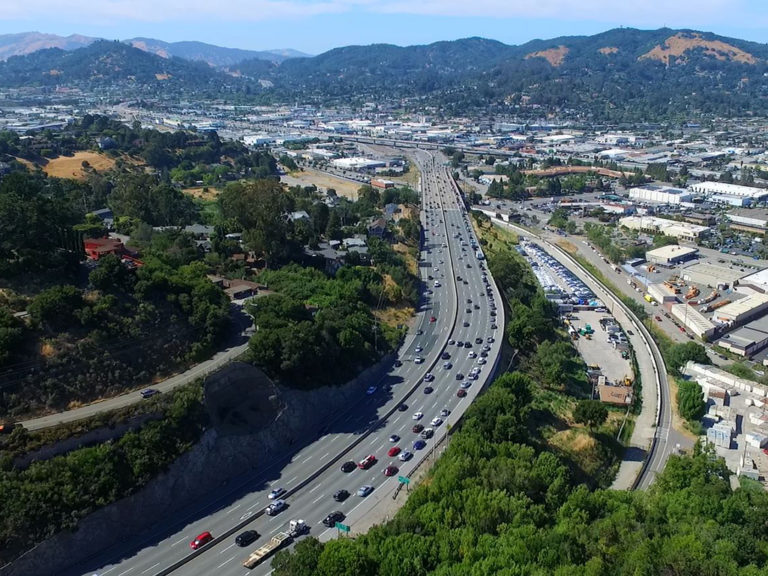 On the July 6, 2021 City Council meeting, City staff, the City's consultant, Barry Miller, and the Transportation Authority of Marin (TAM) presented a presentation of the potential guiding principles representing San Rafael's interests in the TAM study of alternative alignments for the Northbound US-101 to Eastbound I-580 Direct Connector project.
Currently, drivers who wish to access the Richmond-San Rafael Bridge via northbound US Highway 101 must exit the freeway and travel on East Sir Francis Drake Boulevard or across Bellam Boulevard to get to the bridge.  Having to drive on local streets causes congestion and traffic delays on northbound Highway 101 and on local streets, including Sir Francis Drake Boulevard and Bellam Boulevard.  The TAM has been evaluating a direct connection from Highway 101 to Interstate 580 for several years.  The proposed project will allow vehicles to continue along Highway 101 northbound onto a new highway connector and merge directly onto I-580 eastbound toward the Richmond-San Rafael Bridge.
If the project is eventually built in San Rafael, the new corridor will change traffic patterns, impact local businesses, and change the way residents and businesses in Southeast San Rafael (such as the Canal, Spinnaker, Baypoint Lagoons, and Bahia neighborhoods) get to and from this vital area of the City.
Each of the possible alignments impact the residents of San Rafael in different ways so it is important to capture "guiding principles" that will help to define the needs and desires of the residents and businesses in San Rafael regarding the selection of alignments that will move forward for further review in the environmental process.  To that end, staff interviewed Councilmembers and others to create a draft Guiding Principles document for consideration and input from the City Council and public.
Check out the meeting for more information on the project!