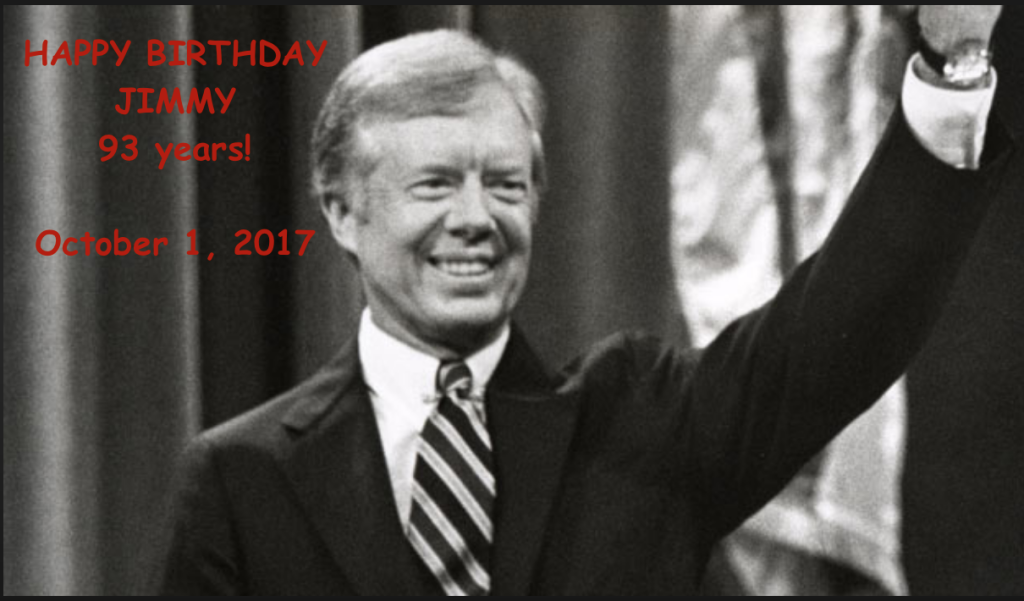 Organizations in Marin County collaborate for events and festivities to honor 39th U.S. President Jimmy Carter on his 93rd birthday.
College of Marin, Community Media Center of Marin, Penguin Radio of Dominican University of California, Marin Artists Network, Associated Students of College of Marin, Marin Democrats and S.E.E.D. are sponsoring the week of activities highlighting Carter's vision and leadership on environmental and energy policies, human rights, peace and humanitarian efforts.
Congressman Jared Huffman says in his video tribute, "Jimmy Carter, your values and your commitment are good guides as we face the ongoing struggle with environmental climate change, hurricanes and other natural disasters. We also value your promise to never lie to the American people. We appreciate that honesty as we need it today more than ever before. Happy Birthday, Mr. President."
On September 7, 2017, the Democratic Central Committee of Marin passed a resolution honoring Carter and "encourages all citizens to participate in local events recognizing President Carter for the significant impact he has made "on our nation, state and county."
On October 2 at the Marin Center's Showcase Theater, a documentary film A Road Not Taken, about Carter's White House solar panels and his energy and conservation policies will be screened. The Swiss filmmakers will join the screening.
On October 8, there is a free concert at the Indian Valley Campus in Novato including musicians Lavay Smith and the Red Hot Skillet Lickers, Freddie Clark and Wobbly World and others.
ABOUT PRESIDENT JIMMY CARTER
Carter is considered the Father of the Solar Age for his visionary solar and wind energy initiatives. He received the Nobel Peace Prize in 2002, the Presidential Medal of Freedom in 1999 and the United Nations' Human Rights Prize 1998. Carter served in the U.S. Navy and works with Habitat for Humanity. He speaks Spanish and gave speeches in Spanish as a sign of respect.