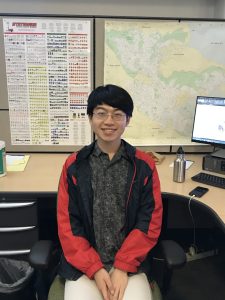 I've never had the pleasure of meeting Dean Allison: he was Public Works Director around 6 years before I was accepted for an internship here at DPW. But everybody everywhere had something positive to say about him: He was kind, caring, empathetic, and led the department with a true passion for helping others. In his short time as Director, he had a profound impact on both the department and the public, and was loved by all.
Walking through the doors of DPW for the first time, I felt intimidated by Dean Allison's legacy. With how much I had heard about him, trying to follow in his footsteps felt daunting. I wasn't sure what to expect on my first day, and I was very nervous. Thoughts raced through my head: Was I underdressed? (No) Was I overdressed? (Absolutely) Was I going to be able to do whatever assignments the engineers gave me? As Lauren, my supervisor, introduced me to the other engineers I noticed that my mask was put on incorrectly and my breath was fogging up my glasses. I couldn't see so I just stopped breathing and nodded enthusiastically while trying to remember everyone's names and job descriptions.
Theo, one of our CIP engineers, brought me out on a little tour on that first day, and it was on this tour that I first got acquainted with San Rafael. From the Southern Heights bridge to Pickleweed Park, I was introduced to not only the various projects that the engineers were working on, but also the diversity in the city's geography, topography, its people's cultures, and their needs.
When asked if I had any particular interests in any of DPW's departments, I wasn't sure how to answer. The only clear idea I had was that I was excited to learn anything and everything I could access, and I stated so. The engineers were very happy to accommodate me, and I had the opportunity to see and aid in their work on projects ranging from the renovation and reconstruction of fire stations to making designated parking boxes for fire safety in hilly neighborhoods. I was astounded by just how much the DPW did: so much that I had taken for granted as a citizen required meticulous planning, maintenance, and execution behind the scenes to ensure the safety and better quality of life for everyone.
I quickly found that my initial reticence and nervousness had evaporated. The engineers, admin team, and even the sanitation department were more than welcoming to me, and always willing to chat and answer my questions. I was eager to show my enthusiasm and tried to finish tasks as fast as possible, but in retrospect this just meant that I had to pester them (especially Lauren and Theo! sorry) more for things to do and they had to take more time to provide me with tasks and projects to work on. They, however, were very happy to do so.
Summer rolled into fall. Juggling an internship with a full course load at school along with tutoring and guest lecturing was difficult for me, but nevertheless I was always very enthusiastic to come into the office. Every day on the bus, I would wonder what new projects I would be given and what new things I would learn (To be totally honest, working in the office was more fun than my classes anyway). In addition, the people here at DPW made my experience that much more enjoyable. Whether it was going on field visits, lunch runs to Target, or learning to do traffic counts, there was never a dull moment with them.
I've learned so much during this internship at San Rafael DPW. In my thousand hours here, I've gotten to see and work on so many cool projects. My favorite projects to work on were the renovations of Fire Stations 54 and 55: it's really incredible to see them gradually being built from the foundations up, and it's so cool to know that my work has contributed to the project. During this time, I've also picked up numerous skills. I've become (somewhat) passable in AutoCAD (at least for work order drawings), gotten really good at recording meeting notes by hand and then transferring them to Excel, and improved my piloting skill of C-maxes, Priuses, and Ford Fusions around the city. I've learned how to take signage inventories, code invoices, and improvise when the resources I need are not readily available. Perhaps most importantly, I've learned that being an engineer in DPW isn't just about managing a project's finances and progress, or making sure that it follows all the codes and regulations, but also ensuring that a project addresses the safety and needs of the people.
Although I haven't met Dean Allison, I think I can say that I've gotten to know him just a little bit through the people here in DPW. His legacy lives on in them, and I can say with confidence that each and every person in the department that I've come in contact with has exemplified the attributes of kindness, empathy, and care. A special thank you to my mentors Lauren and Faby for their brilliance, patience, and generosity, and for teaching me so much about their respective fields. And thank you to my coworkers Willie, JC, Nataly, Neemah, Alysia, Mia, and Cindy for keeping me company throughout this year! Working to serve the public is not an easy job but I truly believe that the city of San Rafael is in good hands. It's been an honor to intern here under Dean Allison's name, and I hope to have represented him well. I'm going to miss working here very much. Thank you again for this exceptional opportunity.
Sincerely,
Justin Lin