HOMEWARD BOUND
Emergency Shelter & Supportive Housing
190 MILL STREET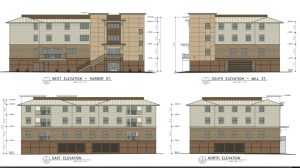 Proposed Project
(haz clic aqui para información en Español)
This project is a combined project that includes a request by Homeward Bound for a General Plan Amendment, Zoning Amendment, and Use Permit and a City Initiated project to pilot a by right process for 100% affordably housing projects.
Homeward Bound Project
General Plan Amendment to extend the high-density residential (HDR) land use designation of the adjacent site such that it would include this entire 190 Mill Street property.
A Zoning Map Amendment to extend the existing high-density residential zoning (HR1) of the adjacent site such that it would include this entire 190 Mill Street property
Use Permit to allow expansion of the existing emergency shelter to allow up to 60 beds
Separately-as a by-right project under AB2162 the project would include development of a 32-unit supportive housing project
City Initiated Project
General Plan Amendment that would allow for a by-right height bonus for 100% affordable housing projects that are proposed within High Density Residential districts
Zoning Text Amendments that would codify the by-right provisions established by General Plan Policies for certain High-Density Residential Zoning Districts.
Status
The City is in the process of preparing an Initial Study to evaluate the environmental effects of the project. Once the Initial Study is completed, it will be released for public review. The Initial Study and project proposal will be considered by the Planning Commission for recommendation to the City Council in early 2020.
On December 10, 2019, the Planning Commission will hold a study session to allow for early comments from the public and allow for guidance from the Planning Commission to the applicant regarding the project elements.