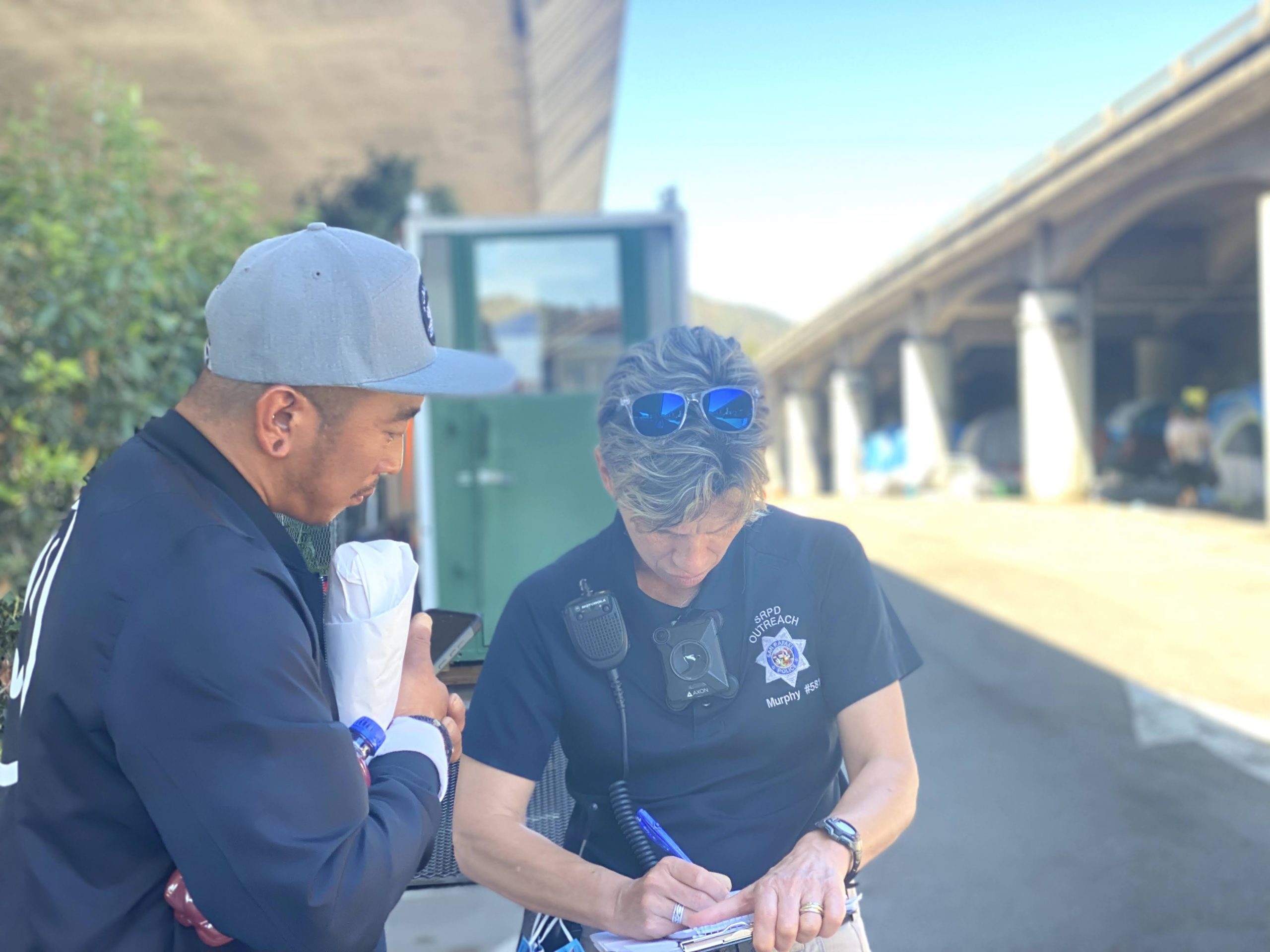 Support Service Area Connects Unhoused Individuals with Service Providers and a Path to Getting Housed
The City of San Rafael continues to provide services for those experiencing homelessness in the Service Support Area that was launched on July 6th. As part of the collaboration with Caltrans, the County of Marin, CHP, and multiple service organizations, the City started this expanded service and has seen positive results. This designated space provides security, restrooms, handwashing stations, garbage pick-up, regular outreach and service referrals, and other quality of life amenities. It also allows for the continuing of work with local partners to identify permanent paths to housing.  
Currently, there are 50 individuals living within the Service Support Area. 100% of occupants were chronically homeless in San Rafael and 14 are now receiving case management support.  Marin County Health and Human Services has confirmed that having individuals in a safe place where their social worker can work with them is already getting people moved into housing options. In the last month, eight individuals have been placed into housing including moves to Project Roomkey hotel rooms, the Homeward Bound run emergency shelter (which will ultimately be 44 new permanent supportive housing units), and through the housing voucher process.  
Earlier this summer, the City Council approved roughly $260,000 in American Rescue Plan Act funds to go towards additional social workers through the County of Marin (also known as case managers) to help people take advantage of the housing vouchers made available through the federal stimulus program. These social workers are being hired and deployed to help people resolve their homelessness.  
A benefit of the Service Support Area is that it creates a convenient place for our community partners to provide services and they are doing so, some weekly and some multiple times per week. There are many great examples, including:  
In addition to those, other partners providing services have been the Care Team, the Spahr Center, the Salvation Army, and members of the Marin Street Chaplaincy.  
To note, the Service Support Area is a temporary site and a temporary solution and the City will continue to work closely with the County of Marin, and community partners, to get occupants into permanent supportive housing. 
How Can You help?
The best way to assist people experiencing homelessness in Marin is to donate or volunteer directly through social service agencies and community groups working with our community. 
Please do not donate directly to the Service Support Area as the bulk of donations are discarded and contribute to the collection of debris at the site.