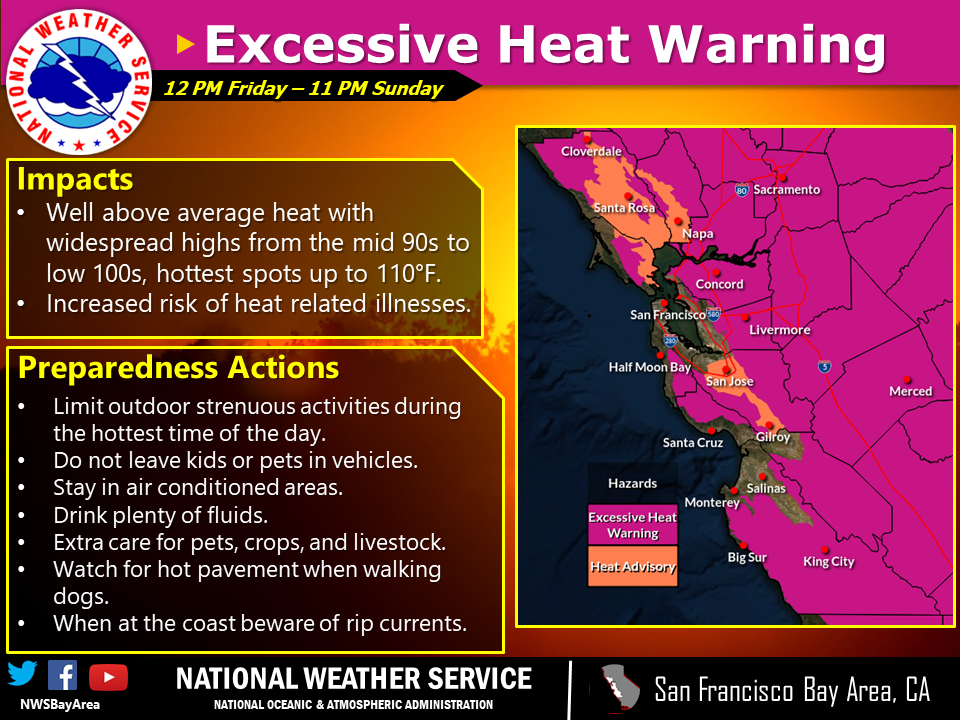 The National Weather Service has issued an excessive heat warning for the Bay Area during the weekend of July 9 – 11.
Stay safe, stay cool, and stay hydrated. Be sure to limit outdoor time. Don't leave pets in cars, and help conserve energy between 4:00 pm and 9:00 pm.
Our downtown and Northgate libraries are open to the public from 10:00 am to 4:00 pm. Come read a book and take a break from the heat.
Excessive Heat Warning Friday 12 PM to 11 PM Sunday PDT

North Bay Mountains (mainly interior mountains of Napa/Sonoma), East Bay Hills & Diablo Range, Santa Cruz Mountains, southern Salinas Valley, interior Monterey/San Benito County

Friday through Sunday

High temperatures in the mid 90s to low 100s

Far interior eastern and southern areas 102-110 F, particularly Saturday/Sunday.

Overnight lows mid 50s to low 60s in the valleys, upper 60s and 70s in the hilltops (isolated areas may not drop below 80).
Moderate to high heat risks with isolated pockets of very high.

Monday into Tuesday

Heat to retreat further inland Monday, but still upper 90s to low 100s for warmer spots.
Cool down likely Tuesday
Limit Outdoor time
Stay hydrated
Young children and infants are particularly vulnerable to heat-related illness and death, as their bodies are less able to adapt to heat than are adults. 
Older adults, particularly those with pre existing diseases, take certain medications, are living alone or with limited mobility who are exposed to extreme heat can experience multiple adverse effects.
People with chronic medical conditions are more likely to have a serious health problem during a heat wave than healthy people.
Pregnant women are also at higher risk. Extreme heat events have been associated with adverse birth outcomes such as low birth weight, preterm birth, and infant mortality, as well as congenital cataracts.