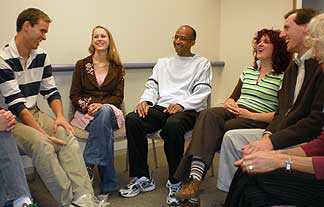 Two Fridays ago I wrote to you about the Chamber of Commerce's "Cleaning up Myths about Homelessness" event.  I left work that evening feeling incredibly excited about the growing, positive momentum to actually end homelessness in our community.  While I feel like that energy and excitement is building every day, as I have also said in past blog posts, I am still mindful of the fact that there continue to be very real, negative impacts from homelessness in our community.  To that end, I'd like to share my thoughts on two more "myths."
Myth #1: The City Doesn't Get It
The fact that I am even in this position writing to you right now confirms that the City views homelessness as a significant challenge.  I spent the past two and a half years trying to address the negative impacts from homelessness through Downtown Streets Team, every single City department has been in some way impacted by homelessness, and perhaps more important than both of the above, all City employees are residents, workers, parents, or customers within San Rafael, and we are having the same experiences you are having.  We empathize with and share your concerns.
Myth #2: We Only Have Two Options
In addition to recognizing the issue of homelessness itself, the City also recognizes and understands the significant anger and frustration felt by many in the community.  For some, the solution is shutting down all services for the homeless and kicking every unhoused person out of town.  For others, the status quo is totally acceptable and there should be even more services added downtown.  As I have watched this "debate" unfold over the past few years, I think the fact that there is even a "debate" at all is what really troubles the majority of our community members and what makes this issue so much harder to solve.
Simply put, the whole issue of homelessness in San Rafael has been framed as a false choice.  The vast majority of the feedback I have seen and received has suggested that we live in a very compassionate community that wants to see homeless people get the help they need, but at the same time, that help needs to be provided in a more appropriate context – i.e. not downtown and not in a residential area.
The Kubler-Ross model of grief suggests a predictable series of emotional responses to a significant challenge – denial, anger, and bargaining.  The City is past denial and past anger.  For a lack of a better word, we – like communities throughout the country – are in the "bargaining" or solutions phase.  There are ways to reach win-wins on this issue, and there are other communities that have successfully navigated this situation and that can serve as a roadmap for San Rafael.
Conversations Are Critical to Overcoming "Myths"
This is an incredibly complex issue, and it will require all of us to have ongoing, solution-based conversations.  To that end, I plan to host a series of 10 "community conversations" about homelessness.  These will be small group discussions of 10 or fewer people, discussing how we achieve "the bargain" described above.  My hope is that this is a well-received platform for communication, and if it is, I will create permanent "office hours" to continue these conversations.  Click on the link below to for one of the following options:
Register Here!
Thursday the 12th – 730am to 830am (downtown coffee)
Friday the 13th – 12:30pm to 1:30pm  (City Hall)
Sunday 15th – 9am to 10am (downtown coffee)
Sunday 15th – 10am to 11am (downtown coffee)
Monday 16th – 730am to 830am (City Hall)
Monday 16th – 6pm to 7pm (City hall)
Tuesday 17th – 1pm to 2pm (City Hall)
Tuesday 17th – 6:30pm to 7:30pm (City Hall)
Monday 23rd – 730am to 830am (City Hall)
Monday 23rd – 12pm to 1pm (Terra Linda)