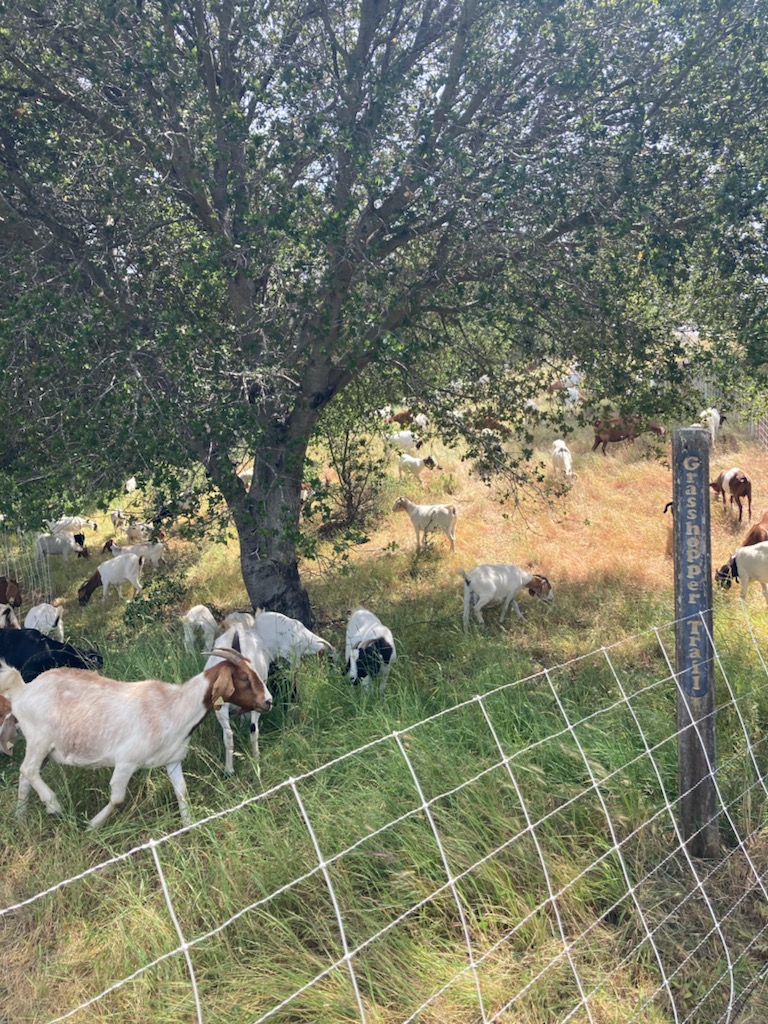 It is an exciting part of the spring season when the goats come to town! Goat grazing in San Rafael helps mitigate wildfire risk to the community by removing light and flashy fuels that enable wildfire to spread across the landscape. The intent of removing these fuels around homes and other infrastructure is to help slow the spread of wildfire if it approaches the community.  
Beginning on May 2nd, goat grazing will commence on 10 sites throughout San Rafael and Marinwood open space and cover approximately 150 acres of grassland in the immediate vicinity of homes and structures. For specific site locations please look at the Project Map.
While it is fun and exciting to see our furry friends at work there are a few safety items to consider if you are in the vicinity of an active worksite. Portions of the open space may be closed to accommodate a safe work area, so please adhere to posted signage and closures. For everyone's safety please always keep your dog on a leash and your children away from the enclosure. The fences used to contain the goats are electrified and should not be touched, breached, or jumped over at any time. If you or your children want to get up close and personal with some grazing goats, we invite you to come to Ember Stomp on Saturday May 28th. Ember Stomp is the first-ever wildfire prevention festival in Marin County. Come check out this free event and enjoy live music, food trucks, goats, fire safety demos, and games for kids! 
The goats are making good progress throughout the City and following the route below:
If you have any questions about the City's goat grazing program and any of our other wildfire mitigation projects please contact our Vegetation Management Specialist, Calvin Schrader at 415-485-3457 or calvin.schrader@cityofsanrafael.org.