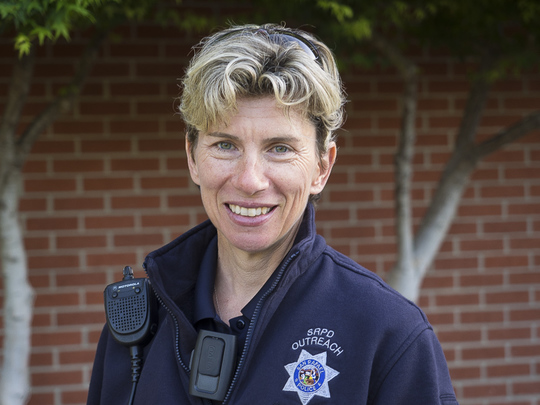 If the City of San Rafael has a secret weapon in our mission to end homelessness, it's Lynn Murphy. I recently had the chance to spend a morning in downtown San Rafael with Lynn, and she was kind enough to answer a few of my questions.
What is your position with the City of San Rafael?
LM: I am the Mental Health Outreach Liaison for the San Rafael Police Department.  I was hired in September of 2013 when the City created this position because of the growing number of mentally ill people on the street.  I had previously worked at the Youth Services Bureau of SRPD working with juvenile offenders and their families.  I loved that work and when this position was created, I jumped at the chance to work for the PD again.
What is the biggest myth about homelessness in San Rafael?
LM: The biggest myth about homelessness in San Rafael is that "homeless" is a blanket term that describes anyone without a home.  There are so many stories and different reasons that people are on the street.  You can't paint all homeless with the same brush stroke.  They are all different and have different needs that I am trying to figure out, and then try to find a resource for that need.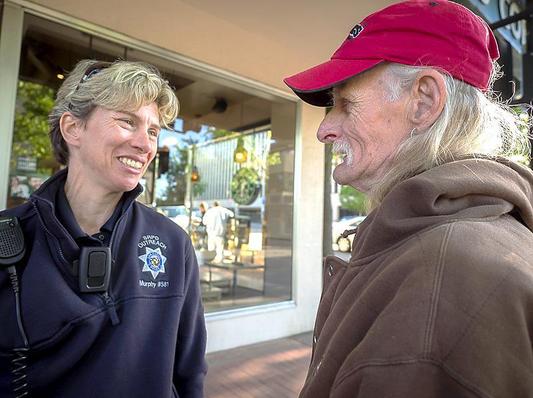 What's the most disappointing thing that has happened in your position?
LM: The most disappointing thing that has happened is probably just the realization that getting severely mentally ill people help can take a very long time.  In a lot of cases, the person in need of help does not realize that they need help.  If they don't want to access the help that we offer, sometimes there's not a lot that we can do.
What do you consider to be your greatest achievement in your position?
LM: A few great things have happened.  When someone gets off the street and gets on medication and is doing really well, it makes my day to see them and talk to them.  One woman in that situation thanked me and apologized for being mean to me when she was homeless.  I also appreciate hearing from people on the street that simply talking and sharing their story with someone who listens means so much.  I genuinely love hearing people's stories.  I think that is very validating for the people I work with.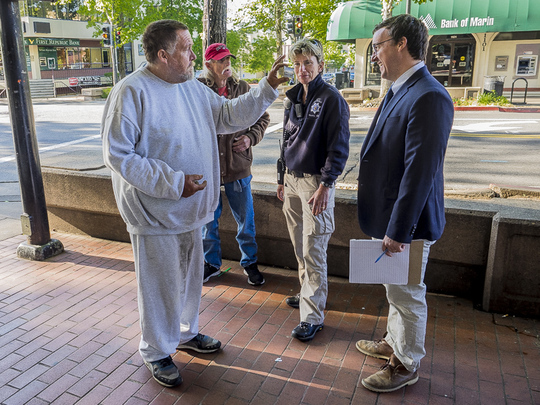 What skills, qualities, and/or attitudes are needed for your job?
One quality that is really important in this job is being able to work collaboratively with a lot of different people and groups.  I work with everyone from people on the street to the DA's office, the Public Defender's office, County Mental Health, the Fire Department, merchants, citizens and the Mayor.  You also have to be an optimist and believe that change is possible even in situations that seem pretty dire.  Lastly, you have to be creative in your problem solving.  Some of the situations that I deal with require out of the box thinking in order to get results.  If one thing doesn't work, then you have to be able to come up with another solution to try, and perhaps another.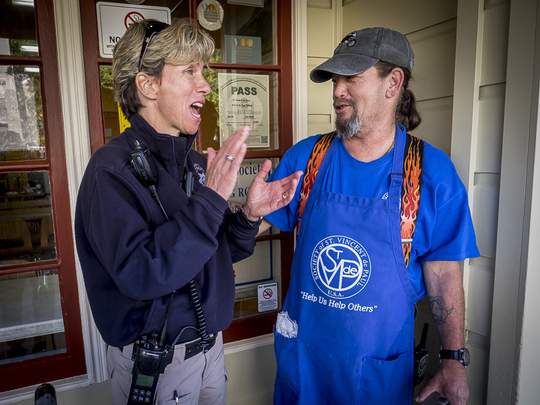 What are 2-3 actionable pieces of advice for community members who want to get more involved on this issue?
Actionable pieces of advice … Volunteer at St. Vincent's and talk to people.  Listen to their stories.  Get involved with your neighborhood association and come out to the parks and downtown.  And, when you see someone panhandling, rather than give money to that person, consider donating to an organization which helps homeless people with services.   Sometimes panhandlers don't use money wisely.