DESPLAZARSE HACIO ABAJO PARA ESPAÑOL
Marin Sanitary Service released the following information regarding garbage service:
IMPORTANT MESSAGE FOR MSS CUSTOMERS
The health and safety of our employees and customers is a top priority at Marin Sanitary Service (MSS).  During this time of sheltering in place, MSS will continue to operate as an essential service in our communities.  While our drivers will be out in the community, we thank you for your help and patience.
Driver Health & Safety
In order to keep our drivers healthy and on the road, you can help by remembering the following guidelines:
By properly setting out your cart our automated truck drivers will not need to handle your carts, decreasing the chance of exposure to and spreading of the virus.

Carts should be spaced with 2 feet between containers and 5 feet between carts and other obstacles
Carts should be spaced with 2 feet between containers and 5 feet between carts and other obstacles
Carts should not be overfilled.  The lids on all carts must close completely

Please wipe down the handles of your carts with disinfectant wipe, especially for homes serviced with our manual trucks which require handling of carts.
Drivers are not used to seeing children in the streets during school hours. Please warn your children to watch for MSS trucks, and to completely avoid MSS collection operations while servicing your home or any home.
Customer Service
Our customer service representatives will continue to answer inquiries from our customers. MSS in-person payment centers will be closed while sheltering is in place. Our ability to answer calls will likely be impacted with higher call volumes anticipated. We therefore ask the following:
Please use our website as a place to get information and email our customer service representatives of non-critical items.  This will keep our phone lines available for critical needs.
Please be patient.  We will respond to voicemails within 24 hours.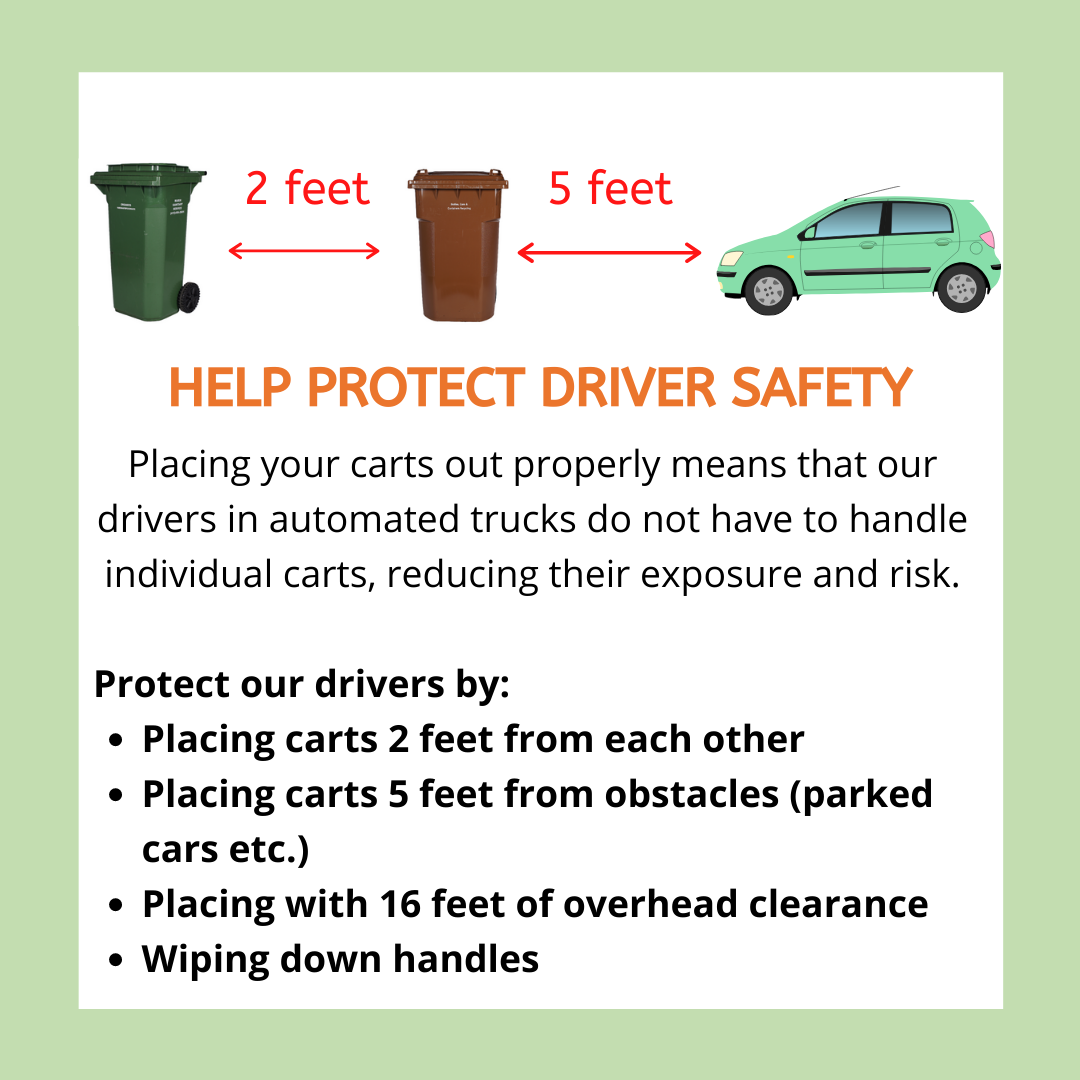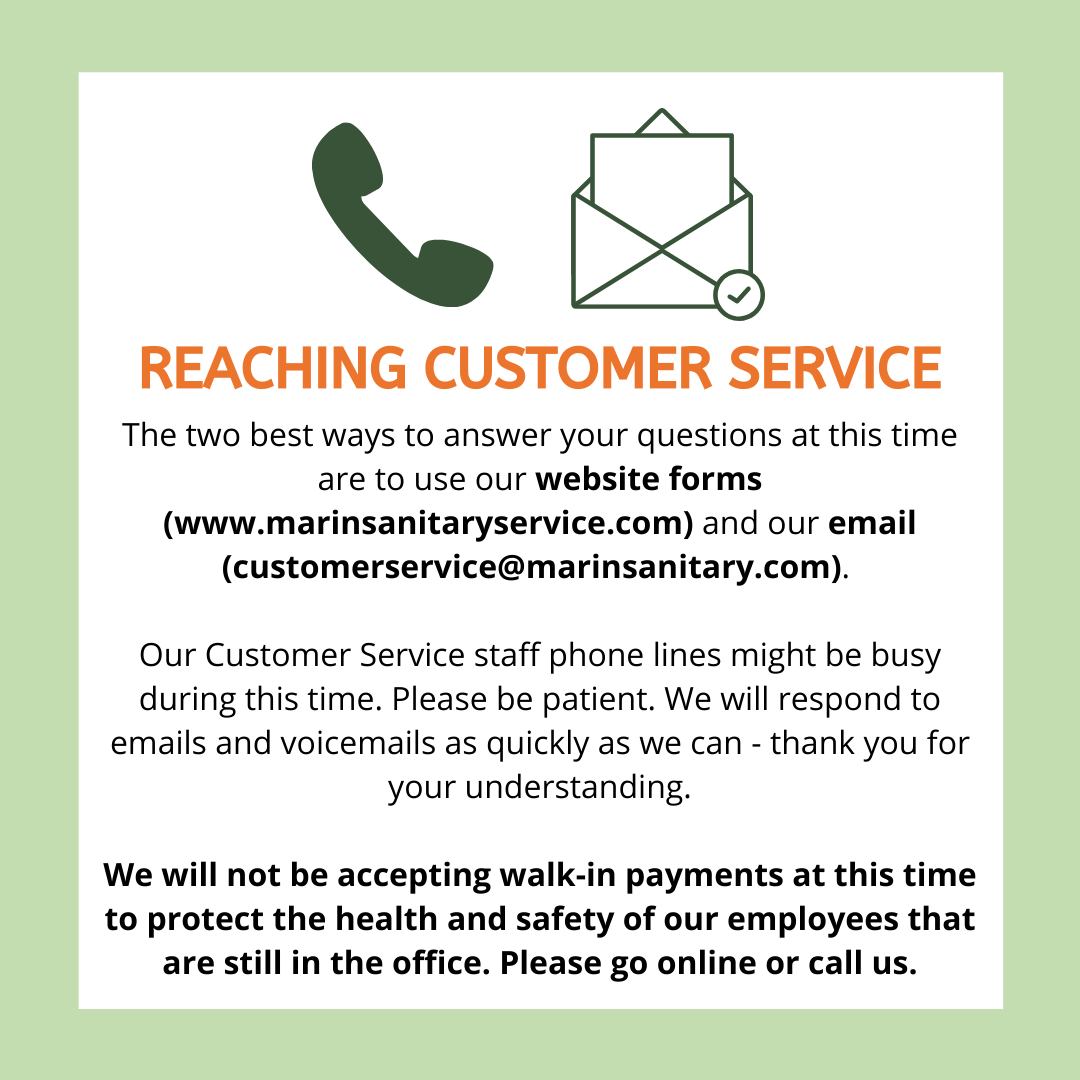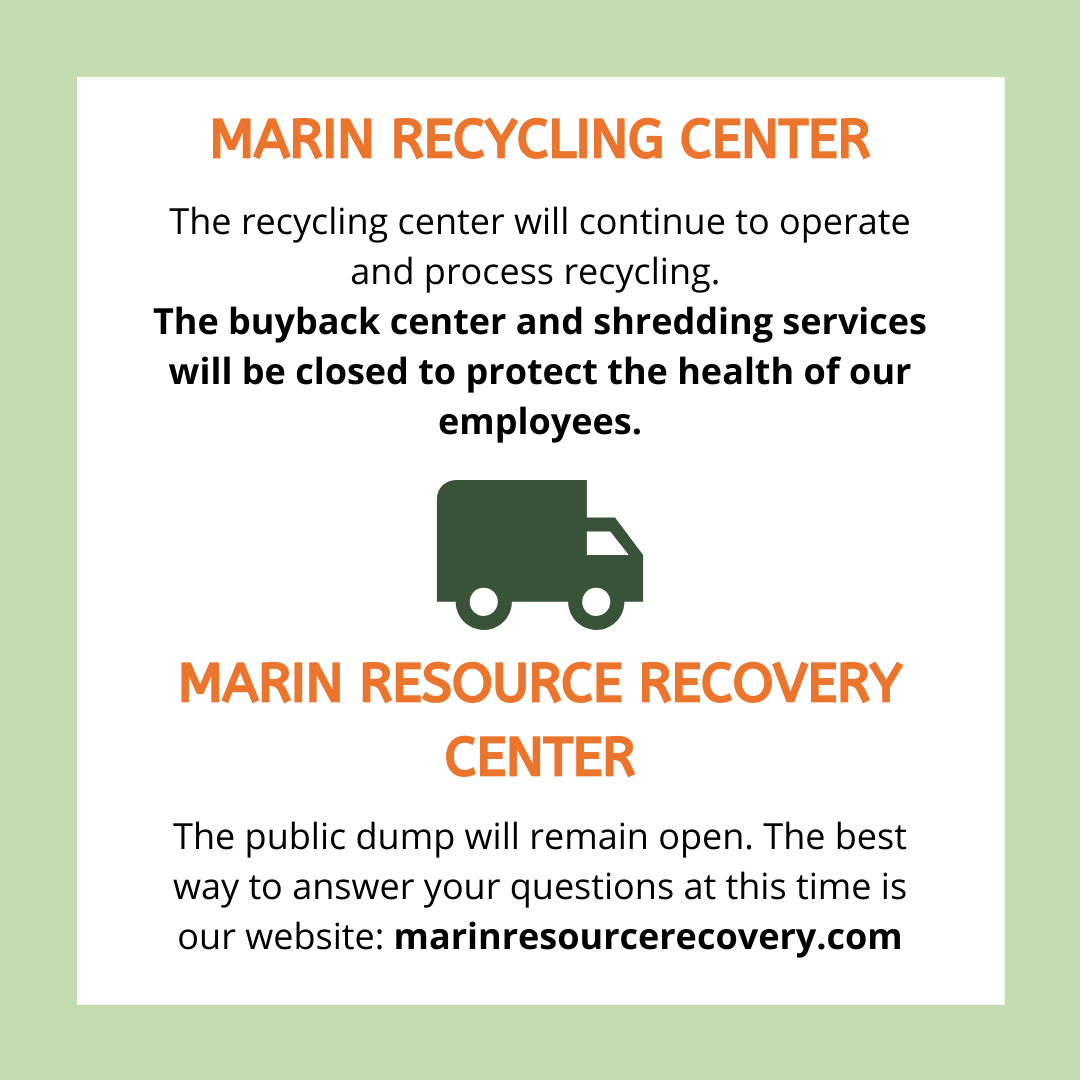 For more information, visit marinsanitaryservice.com and follow them on instagram @mssrecycles.
Return to COVID-19 page.
Servicio de Basura Continuará Funcionando
ACTUALIZACIÓN IMPORTANTE DE CLIENTES DE MSS 
La salud y la seguridad de nuestros empleados y clientes son una prioridad en el Servicio Sanitario de Marin (MSS). Durante este tiempo de refugio, MSS continuará operando como un servicio esencial en nuestras comunidades. Le agradecemos su ayuda y paciencia. 
Conductor Salud y Seguridad 
Para mantener a nuestros conductores saludables y en la carretera, puede ayudar recordando las siguientes pautas: 
Al colocar correctamente su carrito, nuestros conductores de camiones automáticos no necesitarán tocar sus carritos. Esto disminuirá la posibilidad de exposición y propagación del virus.

 
Los carros deben estar espaciados con 2 pies entre los contenedores y 5 pies entre los carros y otros obstáculos.

 

Los carros no deben llenarse en exceso. Las tapas de todos los carros deben cerrarse por completo.

 
Limpie las manijas de sus carros con una toallita desinfectante, especialmente para hogares con servicio de nuestros camiones manuales que requieren el manejo de carros.

 
Los conductores no están acostumbrados a ver niños en las calles durante el horario escolar. Por favor, advierta a sus hijos que estén atentos a los camiones MSS y que eviten por completo las operaciones de recolección de MSS mientras dan servicio a su hogar o cualquier hogar.

 
Servicio al Cliente 
Nuestros representantes de servicio al cliente continuarán respondiendo las consultas de nuestros clientes. Los centros de pago en persona de MSS permanecerán cerrados mientras haya refugio. Nuestra capacidad de responder llamadas probablemente se verá afectada con mayores volúmenes de llamadas anticipados. Por lo tanto, pedimos lo siguiente: 
Utilice nuestro sitio web como un lugar para obtener información y envíe un correo electrónico a nuestros representantes de 

servicio

 al cliente de artículos no críticos. Esto mantendrá nuestras líneas telefónicas disponibles para necesidades críticas.

 

Por favor sea paciente. Responderemos a los mensajes de voz dentro de las 24 horas.