Francisco Boulevard West is a frontage road that parallels the west side Highway 101 between Second Street and Andersen Drive and connects downtown to the light-industrial area of southern San Rafael. In July 2018, the Sonoma-Marin Area Rail Transit District (SMART), closed Francisco Boulevard West between Second Street and Rice Drive as part of the Larkspur Extension. In Summer 2019, the train extension to Larkspur was completed. This extension included new traffic signals on Second and Third Streets at the railroad crossings.
City staff and SMART staff have worked to refine the operations of the new traffic signals at the railroad crossings, however, vehicles consistently stop on the railroad tracks, including vehicles making a northbound right turn from Francisco Blvd West onto Second Street.  Vehicles stopping on the tracks delay the train crossing into San Rafael which exacerbates the already difficult traffic problems in the Transit Center area.  It also presents a safety concern to other motorists as well as the train operators and passengers.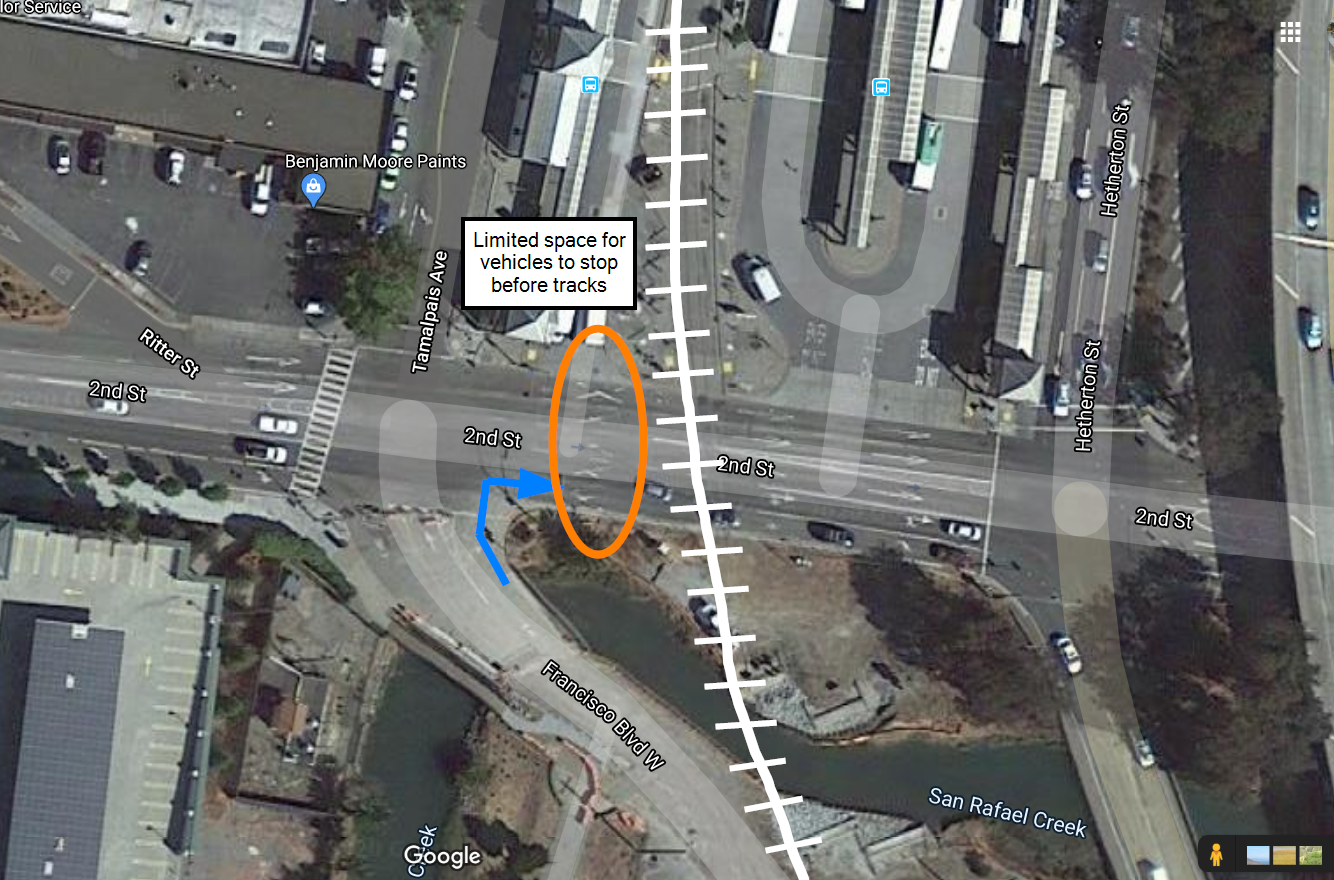 The Department of Public Works will be converting Francisco Boulevard West to a southbound one-way street between Second Street and Rice Drive. This proposed change in traffic flow will significantly improve safety at the Second Street railroad crossing while allowing motorists to continue accessing businesses between downtown and Francisco Boulevard West, Irwin Street, and Rice Drive.
With the conversion of Francisco Blvd West to one way southbound, the northbound vehicle traffic from Francisco Boulevard West will be re-routed to parallel streets such as Lincoln Avenue, Du Bois Street, and Andersen Drive. Traffic engineering analyses indicate the existing traffic control devices (i.e., traffic signals or all-way STOP intersections) will be able to accommodate the additional traffic without significant impact.
A Multi-Use Path (MUP) two-way protected cycle track will be constructed on the vacated travel lane. The MUP will be separated from moving vehicles using raised, landscaped planters with trees thus providing an aesthetically pleasing corridor for both motorists, cyclists, and pedestrians. The newly constructed sidewalk will remain for pedestrian travel.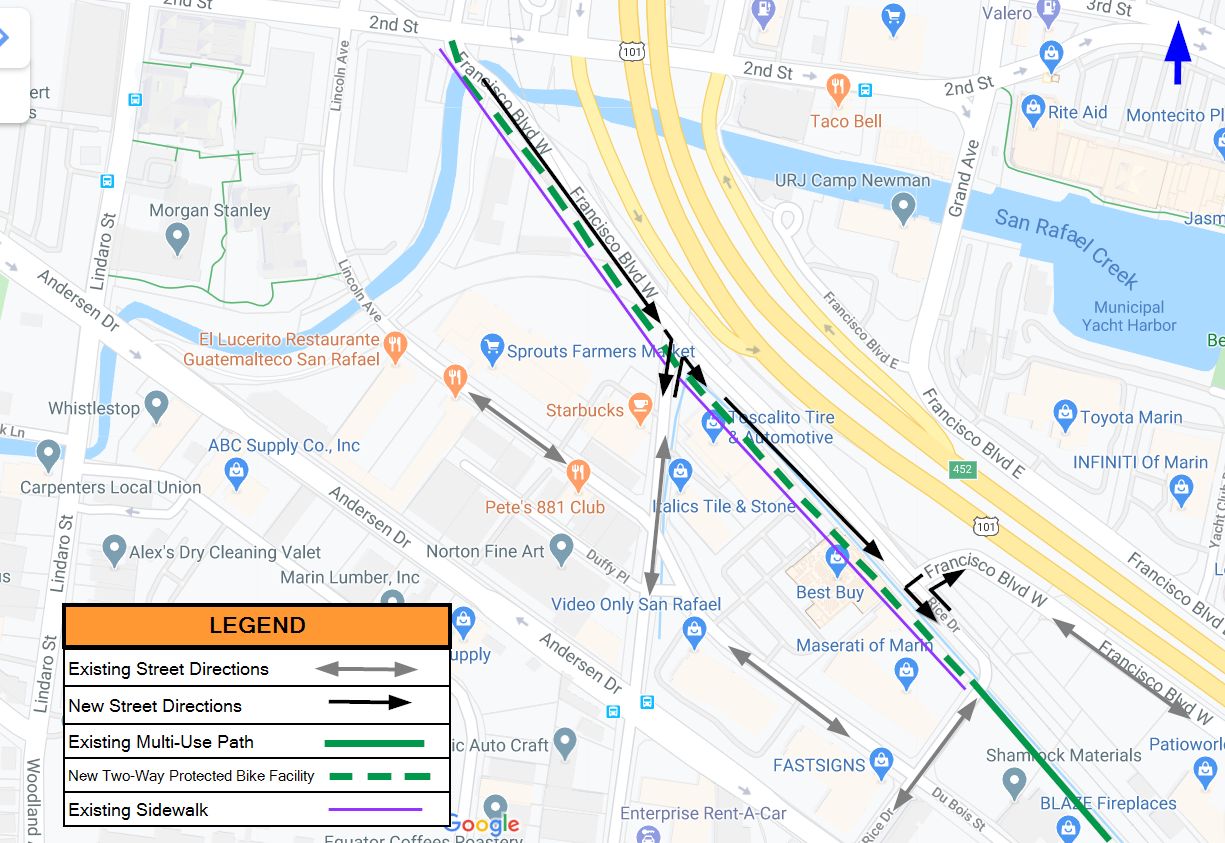 Goals for project
Improve bicycle and pedestrian safety by providing cycle track and multi-use path extension
Improve safety at 2nd Street railroad crossing by removing right turn from Francisco West to 2nd Street
Overall objective
Complete bicycle connection from south Marin to Downtown San Rafael
Timeline

| | |
| --- | --- |
| SMART completed Francisco Blvd realignment | Summer 2019 |
| Phase #1 Multi-use Path from Anderson to Rice Drive Complete | Summer 2019 |
| Design and Bid Phase #2 | January to June 2020 |
| Phase #1 Lighting Project Construction | August to October 2020 |
| Construction Phase #2 | August 6, 2020 to November 2020 |
Construction Detours
Project Sponsors