Project Description: This project consisted of street repairs to remove bumps that have formed on Francisco Blvd East between Medway Road and Vivian Street and on Francisco Blvd West near RAB Motors. In addition to the street repairs, other work items include minor draina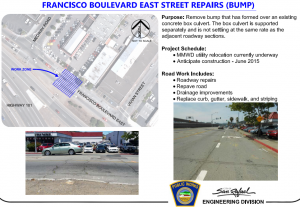 ge improvements and removal and replacement of sidewalk, curb, gutter, and striping.
Prior to the civil work that was performed under Contract, PG&E and Marin Municipal Water District (MMWD) relocated their utilities in conflict of the proposed repairs.
Project Status: This project is complete. Maggiorra & Ghilotti performed all concrete, drainage, asphalt, and striping work on both Francisco Blvd West and Francisco Blvd East.
Project Contact: Stephanie Gindlesperger, Department of Public Works, (415) 485-3355.