The Traffic Engineering division continues to adjust signal timing in downtown San Rafael. We changed the cycle length on Fourth Street from 90 seconds to 75 seconds so we can serve each direction and each mode (cars, bikes, pedestrians) more frequently. Below are time-space diagrams for Fourth Street in the morning and evening. The goal is to achieve thick, diagonal bands that span across the chart, from Cijos Street to E Street. The blue band represents Fourth Street westbound; the purple band represents Fourth Street eastbound. I think we were successful!
AM: Top, before.  Bottom, after.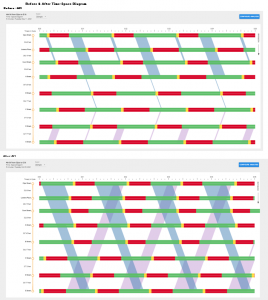 PM: Top, before.  Bottom, after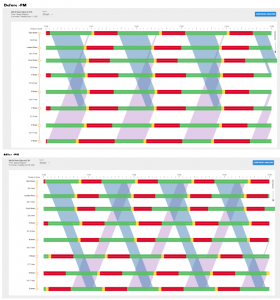 Another way to look at the data is percentage of vehicles arriving to the signal while it is green (versus yellow or red). After making the changes, we saw a large increase in arrivals on green. Below is a comparison of May (before) versus October (after).
Arrivals on Green for 4th & A St
Phase 2 – 4th St – AM
Phase 2 – 4th St – PM
Time
4th Street Percent Arrivals on Green
Time
4th Street Percent Arrivals on Green
5/11/2021 8:15
64.22
5/11/2021 16:45
81.07
5/11/2021 8:30
67.15
5/11/2021 17:00
77.78
5/11/2021 8:45
56.9
5/11/2021 17:15
75.66
5/11/2021 9:00
65.79
5/11/2021 17:30
79.35
Average:
64
Average:
78

Time
4th Street Percent Arrivals on Green
Time
4th Street Percent Arrivals on Green
10/5/2021 8:15
87.8
10/5/2021 16:45
87.95
10/5/2021 8:30
88.64
10/5/2021 17:00
84.8
10/5/2021 8:45
87.97
10/5/2021 17:15
88.44
10/5/2021 9:00
92.16
10/5/2021 17:30
90.83
Average:
89
Average:
88