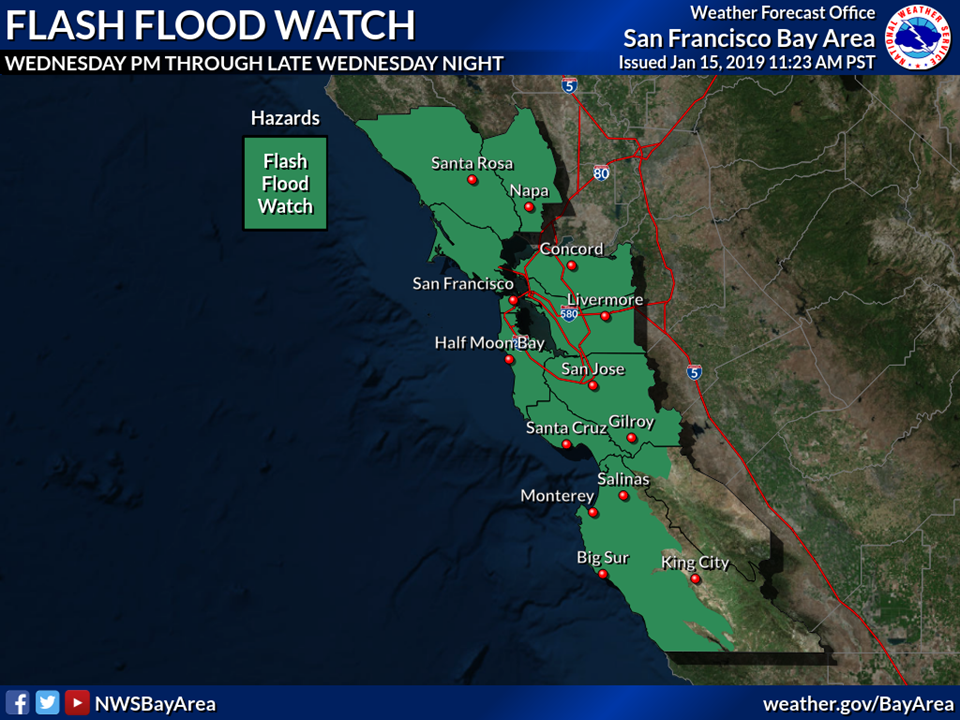 In case you haven't looked outside today, it's raining. It's going to keep raining. And it's about to get windy, too. The National Weather Service in San Francisco has issued a Flash Flood Watch and a Wind Advisory for the Bay Area.
The Flash Flood Watch will be in effect from Wednesday, January 16 at 3 p.m. through Thursday, January 17 at 3 a.m. A strong cold front will bring heavy rain Wednesday afternoon through early Thursday morning. Urban and small stream flooding will become likely along with rapid rises on main stem rivers.  Small creeks and streams may rapidly rise near or above bankfull. Take action now to protect property by sand bagging flood-prone locations. Sandbags are available at Fire Station 55 (955 Point San Pedro Road) and at the Terra Linda Community Center (670 Del Ganado Road).
A Flash Flood Watch means that conditions may develop that lead to flash flooding. Flash flooding is a very dangerous situation. You should monitor later forecasts and be prepared to take action should Flash Flood Warnings be issued. Heavy rain may cause mud and rock slides onto roads and areas of urban flooding.
In addition, strong winds will be blowing south 25 to 35 miles per hour, with gusts up to 50 miles per hour. Strong winds may blow down limbs, trees, and power lines. Scattered power outages are expected. For downed power lines and power outage reports, call 9-1-1 immediately to report the location of a downed line. After reporting the downed line, call PG&E's 24-hour Residential Customer Service Center at 1-800-743-5000. Consider downed power lines still active. Stay away from the lines and keep others away from them. Thank you for helping us–we need the extra eyes and ears right now. Power out? Check PG&E's electric outage map for more information.
A Wind Advisory means that winds of 35 mph are expected. Winds this strong can make driving difficult, especially for high-profile vehicles. Use extra caution. Strong winds may cause travel impacts and areas of downed trees, power outages, and property damage. Allow extra time and try to minimize your car trips during the storm.