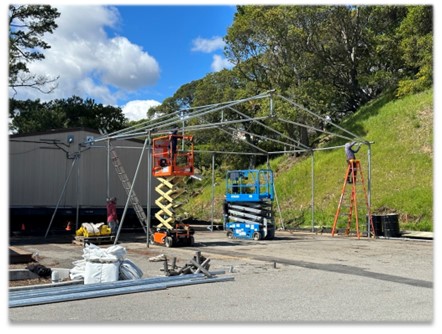 Contact:           A. Fabiola Guillen, Sr. Project Manager – Public Works
The new Fire Station 55 building in the Peacock Gap neighborhood has been completed.  Firefighters moved into their new station in late March 2023. With no use for the temporary modular building and the temporary apparatus bay, the structures were dismantled and removed from the site.
Removing the temporary structures has cleared up the site to allow the sitework to start. The sitework includes reconfiguration of the parking lot, new curbs, exterior lighting, a new electric vehicle charging station, and repaving of the entire lot.  The City has enlisted a paving contractor to complete the sitework.  The contract is being processed and the work will start as soon as all the documentation is finalized.
After completion of the sitework in the next couple of months, traffic and bike lanes will be restored to their original state.