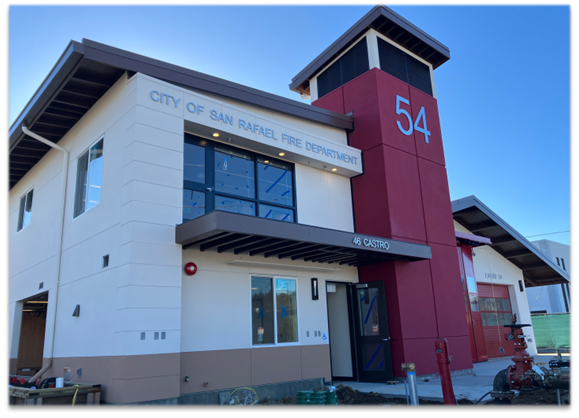 Contact:         A. Fabiola Guillen, Sr. Project Manager – Public Works
Fire Station 54, on Castro Avenue in the Canal Neighborhood, is almost complete.  The two-story building has received all new interior finishes, stainless steel countertops, kitchen cabinets, and flooring.  This station also has an elevator that is awaiting State inspection to finalize the building inspection and approval.  In addition, the station is equipped with an emergency generator that will maintain uninterrupted operations during a major emergency.
The recent rains have delayed completion of site concrete and landscape work.  However, we expect the contractor, Wickman Construction, to continue with landscape and all other finishing touches in upcoming weeks.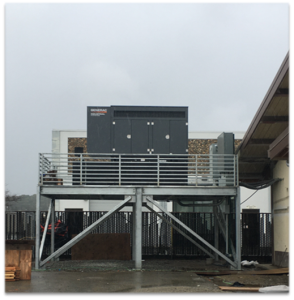 Fire Station 54 – Emergency generator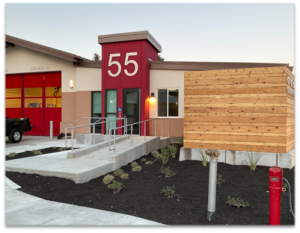 Fire Station 55, located at 955 Point San Pedro Road in the Peacock Gap neighborhood, has been completed.  Fire alarm and fire sprinklers final testing have passed and signed off to allow occupancy.
The apparatus bay has been upgraded to include high speed bifold doors and a new state of the art vehicle exhaust system.  The new living quarters include a spacious kitchen with stainless steel countertops, cabinetry throughout, new flooring, a glass sliding door to the fenced in patio that highlights the beautiful bay view.
In addition to having an emergency generator on site, a fueling pump was installed to refuel vehicles on site.
Final site work and paving will continue after the temporary modular building and temporary apparatus bay structures are removed from the premises.
Fire Department crews are scheduled to move into the new building in the next few weeks. We are very excited to reach this major milestone