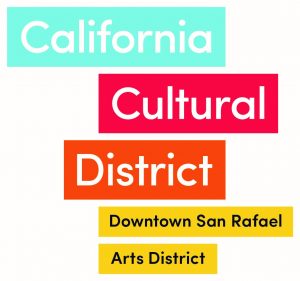 In Summer of 2019, the City of San Rafael's Parking Division & the Downtown San Rafael Arts District (DSRAD), placed a Call for Artists to transform an old downtown parking sign that was temporarily out-of-use, at the corner of Fifth Ave. & C St. The vision was to bring some life & joy to the space with local art and highlight Downtown San Rafael's designation as a California Cultural Arts District.
A parking structure isn't the first place you would think to find art, yet these public spaces have a lot of visitors, and we are excited for the opportunity to both improve the look of the parking facility and celebrate our local artists at the same time.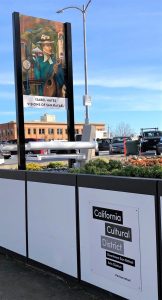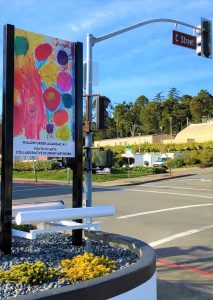 In the competition, artists were asked to submit vibrant, colored and spirited designs inspired by the local natural beauty, environment and culture of San Rafael. Artwork that invokes a sense of community and engages pedestrians/drivers passing by, was desired. Another goal for this unique public art showcase, was to feature 2 works of art at a time, rotating every six months, with one side devoted to local youth artists. A DSRAD Art Selection Committee comprised of local Community members & City staff, worked closely on this project carefully selecting the art based on the project criteria, and the new color schemes for the old sign as well as how to display the artwork. City Staff was delighted to work with: Art Works Downtown, Youth In Arts, local downtown merchants & such gracious, talented artists and teachers. Some of the Youth Artists were able to attend the Public Art Project Unveiling event in January, 2020. It was special to have these children & their parents there to celebrate with!
The 1st of 3 installations features "Visions of San Rafael" by local painter & sculptor, Isabel Hayes & an "Untitled, Collaborative" piece created by Willow Creek Academy, K-1 students under Youth in Arts, Arts Unite Us residency.
The 2nd installation will showcase in mid-May 2020, featuring Travis Weller's "Under The Surface," & a 2nd "Untitled, Collaborative" piece created by Magnolia Park School students under Youth in Arts, Arts Unite Us residency.
In mid-November 2020, look for the 3rd installation featuring "

É

migr

é

With Squirrels," painted by Stephanie Jucker & "Powerful Collaboration," a Youth in Arts Community Mural.
Background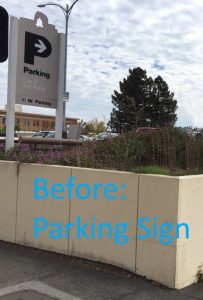 The 2017 designation of Downtown San Rafael as a California Cultural Arts District, prompted the creation of this project. The inclusion of Downtown San Rafael as 1 of 14 designated California Arts Districts, was done so "on the basis of its cultural and artistic resources and activities being available in a concentrated area as well as the community's cultural allure among locals, visitors and entrepreneurs." The Downtown Arts District (DSRAD), located along the spine of Fourth Street, serves as the hub of local business and community life. It features numerous arts-related organizations and a vibrant events schedule, including the 2nd Friday Art Walk.
This Public Art Exhibit is part of a larger parking facility beautification project which includes new landscaping and a new exterior paint concept designed in collaboration with San Rafael Business Owners/Designers, Kyoko & Devin Westberg of Fox & Kit. This project is a community-based effort to "bring art to unexpected places."

The help & support of these lovely people + groups made this project happen:
| | | | |
| --- | --- | --- | --- |
| Isabel Hayes, Artist | Elisabeth Setten, Art Works Downtown | Shannon Hicks, Teacher at Magnolia Park School | Milton Davis Jr, Davis Sign Co. of San Rafael |
| Magnolia Park School students & their parents | Stan Gibbs, Art Works Downtown | Downtown SR Business Improvement District | Jay, Black Cat Studio of Novato |
| Stephanie Jucker, Artist | Bonnie Ayers Namkung, San Rafael Businesswoman | SR Chamber of Commerce | Fastsigns of San Rafael |
| Travis Weller, Artist | Cathy Bowman, Youth In Arts | California Arts Council's cultural districts program | City of San Rafael City Management & Staff |
| Willow Creek Academy, K-1 students & their parents | Julia James, Youth In Arts | Sean Mooney, City of San Rafael | Parking Services Division |
| Youth In Arts, Arts Learning for Youth | Morgan Schauffler, Youth In Arts | Andrew Faulkner, AF Studio |   |