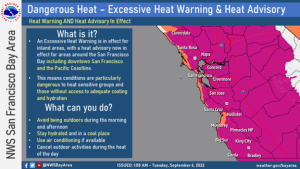 The Excessive Heat Warning from the National Weather Service (NWS) has been extended to continue until Thursday. Temperatures in the mid to high 90s are likely, with only some reprieve overnight. In addition, daily Flex Alerts continue to be issued by California ISO.  Flex alerts are issued to encourage the conservation of energy in order to reduce the need to rotating power outages.
The City and County have numerous resources available to help resident stay safe and cool, including our Libraries and Community Centers. This includes the Boro Community Center until 8:00pm, and Downtown San Rafael Library until 7pm and the Kerner Campus at 3240 Kerner until 7pm. A full list of available cooling centers and public spaces with Air Conditioning is available via the top link on the Marin County Emergency Portal.
You are one of our most important resources to keep our community safe during extreme heat. You can help by assuring you are taking care of yourself and your family by staying hydrated, avoiding the outdoors, and following the flex alert guidelines to help prevent power outages. You can also help by checking on neighbors and sharing the available resources with them. Marin County Public Health offers additional tips on their website and event specific press release.
NWS issues alerts and warnings to ensure community members are prepared and ready to take action in severe weather. Vulnerable residents should:
Plan ahead
Prepare for power outages
Have a buddy system: During a heat wave, check on medically vulnerable family members, friends, neighbors, and co-workers.
Wear lightweight light-colored clothing
Stay hydrated.
If possible, go to a cool place like a mall, library, or movie theater for relief from the heat.
Residents can also Learn How to Create an Energy Efficient Home and keep their homes cool. This website also provides cooling tips and warning signs for heat-related health issues.
The County Emergency Portal weather page will be updated as new information is available. If you haven't already- please bookmark the Emergency portal for future reference as well: emergency.marincounty.org