West End Village Celebration – November 4, 2018
11:00am - 7:00pm
The West End Village
W 4th Street, San Rafael, CA 94901
Add to calendar 2018-11-04 11:00:00 2018-11-04 19:00:00 America/Los_Angeles West End Village Celebration - November 4, 2018 San Rafael's West End Village invites you to be a part of its highly acclaimed Family Fun Day on Sunday, November 4, 2018.This year's street fair promises to excite and entertain the entire community with● Public Skateboard Park and Professional Demonstration ● Free Kids Games and Activities ● Great Food ●Local Artist and Business Tents ● Live MusicThe West End Village Celebration is an award-winning street festival that emphasizes family and community through innovative events.On Sunday, November 4, 2018, your friends and neighbors will be delighted to discover four blocks of West Fourth Street, at the beginning of the famed Miracle Mile, packed with an exposition of the finest cultural aspects that our diverse and unique area offers. The entertainment will be interactive & ongoing and will satisfy a wide variety of pallets.For more information, visit http://sanrafaelcelebrates.com/. W 4th Street, San Rafael, CA 94901
---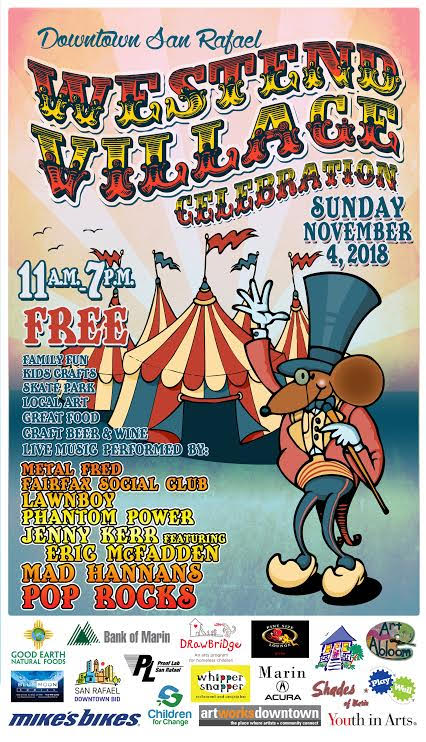 San Rafael's West End Village invites you to be a part of its highly acclaimed Family Fun Day on Sunday, November 4, 2018.
This year's street fair promises to excite and entertain the entire community with
● Public Skateboard Park and Professional Demonstration
● Free Kids Games and Activities
● Great Food
●Local Artist and Business Tents
● Live Music
The West End Village Celebration is an award-winning street festival that emphasizes family and community through innovative events.
On Sunday, November 4, 2018, your friends and neighbors will be delighted to discover four blocks of West Fourth Street, at the beginning of the famed Miracle Mile, packed with an exposition of the finest cultural aspects that our diverse and unique area offers. The entertainment will be interactive & ongoing and will satisfy a wide variety of pallets.
For more information, visit http://sanrafaelcelebrates.com/.