San Rafael Lighted Boat Parade
5:30pm - 8:30pm
Add to calendar 2017-12-09 17:30:00 2017-12-09 20:30:00 America/Los_Angeles San Rafael Lighted Boat Parade This year's parade will be on December 9th starting at 5:30 pm and is being hosted by the Marin Yacht Club, with viewing along the Canal waterfront. You contact the MYC at 415-453-9366 for additional information.Four yacht clubs come together to create a holiday spectacle seen along the banks of San Rafael Creek from these locations:

Montecito Mall -  back of mall 200 to 400 3rd Street
The San Rafael Yacht Club - 200 Yacht Club Drive
Pickleweed Park / Community Center- 50 Canal Street

Parade route:  Outside the San Rafael Canal the parade launches, passing  by Marin Yacht Club. The turning basin is in front of San Rafael Yacht Club.San Rafael Canal lights up with nearly 100 boats and yachts illuminating the water with flashing, dancing lights in the shapes of dolphins, buildings and everything under the sun that can be portrayed with small lights. The 6 p.m. launch of the parade features a grand entrance with Santa and his reindeer and the San Rafael Police. The parade started as separate celebrations organized by the three major yacht clubs in San Rafael in the 1960s with only a handful (8-10) boats. 8 turned into 80 boats and traffic jammed the highway. Boats often come from  Vallejo, Sausalito, Emeryville, Antioch, San Francisco and Bay Area marinas and yacht clubs.Event planners claim this is the third largest Lighted Boat Parade in the country. Action Marine says it is one of the largest boat parades in the Bay Area, which is more likely. Free to see, dress warm and have fun!The annual lighted boat parade in the San Rafael Canal brings together Marin Yacht Club, San Rafael Yacht Club, Loch Lomond Yacht Club and Classic Yacht Association to benefit Community Action Marin, Marin County's oldest and largest provider of family support services.Events and details are subject to change. Please confirm before going.MORE INFO
---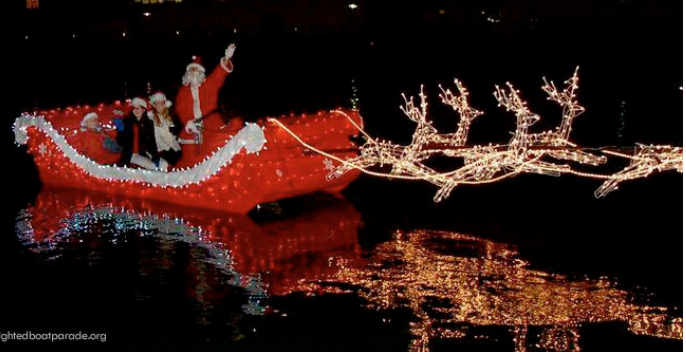 This year's parade will be on December 9th starting at 5:30 pm and is being hosted by the Marin Yacht Club, with viewing along the Canal waterfront. You contact the MYC at 415-453-9366 for additional information.
Four yacht clubs come together to create a holiday spectacle seen along the banks of San Rafael Creek from these locations:
Montecito Mall –  back of mall 200 to 400 3rd Street
The San Rafael Yacht Club – 200 Yacht Club Drive
Pickleweed Park / Community Center- 50 Canal Street
Parade route:  Outside the San Rafael Canal the parade launches, passing  by Marin Yacht Club. The turning basin is in front of San Rafael Yacht Club.
San Rafael Canal lights up with nearly 100 boats and yachts illuminating the water with flashing, dancing lights in the shapes of dolphins, buildings and everything under the sun that can be portrayed with small lights. The 6 p.m. launch of the parade features a grand entrance with Santa and his reindeer and the San Rafael Police. The parade started as separate celebrations organized by the three major yacht clubs in San Rafael in the 1960s with only a handful (8-10) boats. 8 turned into 80 boats and traffic jammed the highway. Boats often come from  Vallejo, Sausalito, Emeryville, Antioch, San Francisco and Bay Area marinas and yacht clubs.
Event planners claim this is the third largest Lighted Boat Parade in the country. Action Marine says it is one of the largest boat parades in the Bay Area, which is more likely. Free to see, dress warm and have fun!
The annual lighted boat parade in the San Rafael Canal brings together Marin Yacht Club, San Rafael Yacht Club, Loch Lomond Yacht Club and Classic Yacht Association to benefit Community Action Marin, Marin County's oldest and largest provider of family support services.
Events and details are subject to change. Please confirm before going.