Richmond-San Rafael Bicycle and Pedestrian Path Ribbon Cutting
---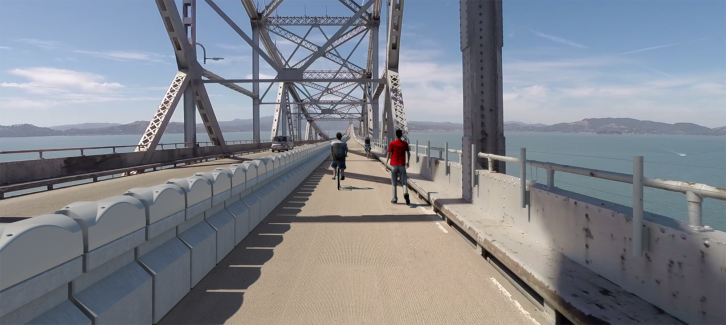 Saturday, November 16, 2019 at 10:00 a.m.
961 Stenmark Drive, Richmond, California
Please join the Metropolitan Transportation Commission and Bay Area Toll Authority, Caltrans, Contra Costa Transportation Authority and the Transportation Authority of Marin in celebrating the opening of a new six-mile Bay Trail segment, allowing bicyclists and pedestrians to travel between Contra Costa and Marin counties for the first time. Please join us to celebrate!
SPEAKERS WILL INCLUDE REPRESENTATIVES FROM
Bay Trail Project
Caltrans District 4
CCTA
Chevron
City of Richmond
MTC/BATA
TAM
Bike or Walk to the Celebration
Use the new path to join the festivities! Bicyclists and pedestrians can access the path from the intersection of Tewksbury Avenue and Castro Street in Point Richmond, or from the intersection of East Francisco Blvd. and Main Street in San Rafael. Follow the path to Stenmark Drive near the Richmond-San Rafael Bridge toll plaza, then follow Stenmark Drive a short distance up the hill to the event site. Bike racks will be provided for cyclist parking.
Driving Directions to Event Location
From the East Bay: Take the Stenmark Drive exit off westbound I-580 (this is the last exit before the Richmond-San Rafael Bridge). After exiting, stay in the center lane to proceed onto Stenmark Drive. Continue approximately 300 yards on Stenmark Drive to an entrance gate on the left that will be open.
From Marin County: From Marin, you will need to turn around in Point Richmond and re-enter the freeway to access the site from I-580 west. From the Richmond-San Rafael Bridge, take the first exit (exit 7) toward Richmond Pkwy/Point Richmond, turn slight left onto Castro Street and get on I-580 west. Take exit 7A toward Stenmark Drive/Pt. Molate. Follow Stenmark Drive to the site.
Drive a short distance up to the event site and follow the parking signs. Directional signs will be placed along the route. Please note there is absolutely NO parking allowed on Stenmark Drive. Plenty of motorized vehicle parking will be available at the event site.
The new bicycle/pedestrian path is separated from auto traffic on the Richmond-San Rafael Bridge by an innovative moveable barrier on the bridge's upper deck, extending the Bay Trail to link Contra Costa and Marin counties. Please help us celebrate this historic milestone for the Richmond-San Rafael Bridge and bicyclists and pedestrians around the Bay Area!