Parks & Recreation Master Plan Community Meeting – Zoom
---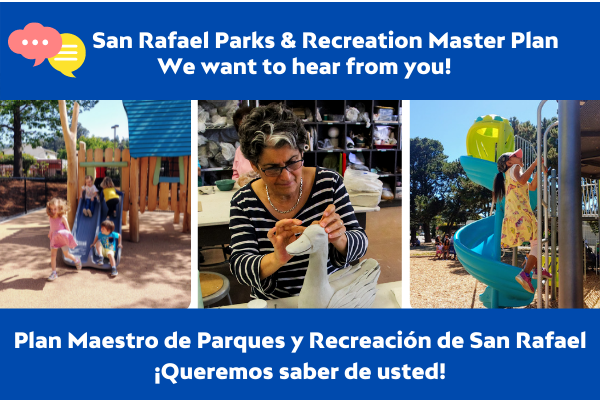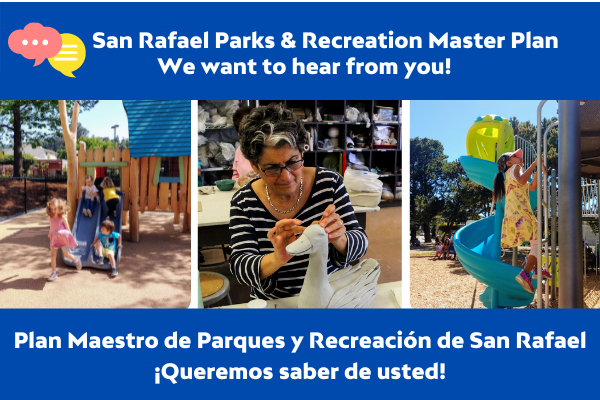 Join us for a community meeting and help shape the future of our parks and programs!
We're developing a plan to improve San Rafael parks, recreational facilities, and programs and want to hear from you. Join us as we introduce the planning process, share information about the community questionnaire, and seek community input.
Please also take our Parks  & Recreation Questionnaire
Let us know how you enjoy the City's parks and programs and how we might improve your experience. The questionnaire is available online as well as at City community centers, libraries, and City Hall through May 20th. Please also encourage friends, family, and neighbors to participate!
Available in English, Spanish or Vietnamese.
——————————-
Plan Maestro de Parques y Recreación de San Rafael
Únete a nosotras para una reunión comunitaria
Ayude a dar forma al futuro de nuestros parques y programas!
Estamos desarrollando un plan para mejorar los parques, las instalaciones recreativas y los programas de San Rafael y queremos saber de usted.
Únase a nosotros mientras presentamos el proceso de planificación, compartimos información sobre el cuestionario de la comunidad y buscamos la opinión de la comunidad.
Cuestionario de Parques y Recreación
¡Complete nuestro Cuestionario de Parques y Recreación para informarnos cómo disfruta de los parques y programas de la Ciudad y cómo podemos mejorar su experiencia.  El cuestionario está disponible en línea, así como en los centros comunitarios de la Ciudad, las bibliotecas y el Ayuntamiento hasta el 20 de mayo. ¡Anima a tus amigos, familiares y vecinos a participar!
Disponible en inglés, español o vietnamita.