New San Rafael Transit Center Meeting – October 30, 2018
5:30pm - 7:00pm
Whistlestop
930 Tamalpais Avenue, San Rafael, CA 94901
---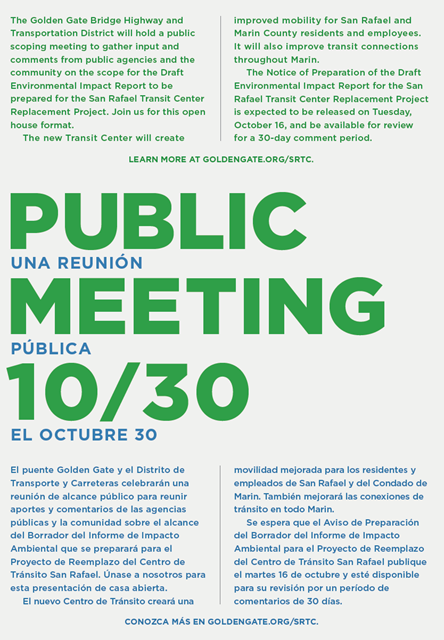 The Golden Gate Bridge, Highway and Transportation District will hold a public scoping meeting to gather input and comments from public agencies and the community on the scope for the Draft Environmental Impact Report (EIR) to be prepared for the San Rafael Transit Center Replacement Project.  We hope you will join us!
Date: Tuesday, October 30, 5:30-7:00 PM
Location: Whistlestop, 930 Tamalpais Avenue, San Rafael, CA 94901
A copy of the Notice of Preparation for the report was released on Tuesday, October 16, and is available for a 30-day comment period at www.goldengate.org/SRTC.
We look forward to the valuable feedback that will help us shape the future of the San Rafael Transit Center. We invite you to add your comments to the Draft EIR and share the scoping meeting information with your networks.
For more information and trip planning assistance to the meeting, visit us online or call 511 (say "Golden Gate Transit," then "operator" to bypass recorded messages) / TDD 711. The Customer Service Center is open weekdays from 7:00 a.m. to 6:00 p.m.