May Madness: 30th Annual Classic Car Show & Parade
12:00pm - 6:00pm
Downtown San Rafael
Fourth Street, San Rafael, CA 94901
---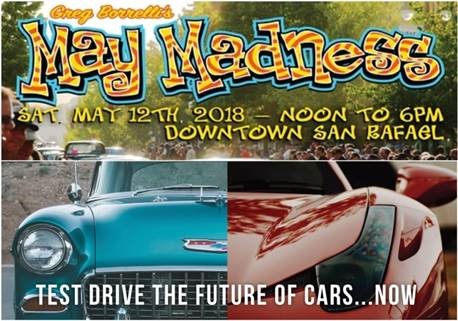 Free! Come check out all the cool hot rods, live music, great food and beverages, and 30th annual car parade in downtown San Rafael. This year's event features an EV Ride-and-Drive, sponsored by the Transportation Authority of Marin. The EV Ride-and-Drive is from noon to 4 PM, with the first 100 participants being entered to win a new iPad. That still leaves you with plenty of time to get a great spot for the parade at 5 PM!
Greg Borrelli's "May Madness" will take place on May 12th, 2018 from noon to 6 PM  in Downtown San Rafael.
Awesome Cars!
It all started in 1986 with a small gathering of Greg Borrelli's Hot Rod friends.  Today there are several hundred classic cars and hot rods from the early 1920's to muscle cars of the early 70's.
Awards & Trophies!
There are numerous Trophies handed out to some of the incredible cars.  Some examples are best Paint, Best of Show, Mayors Award, Greg Borrelli memorial award.
Rockin' Music!
Downtown San Rafael will be rocking to tunes from the 50's.  Join in the fun with our dancing in the street.