Dominican Chorale Spring Concert
8:00pm - 10:00pm
St. Raphael Church
1104 Fifth Avenue, San Rafael, CA 94901
---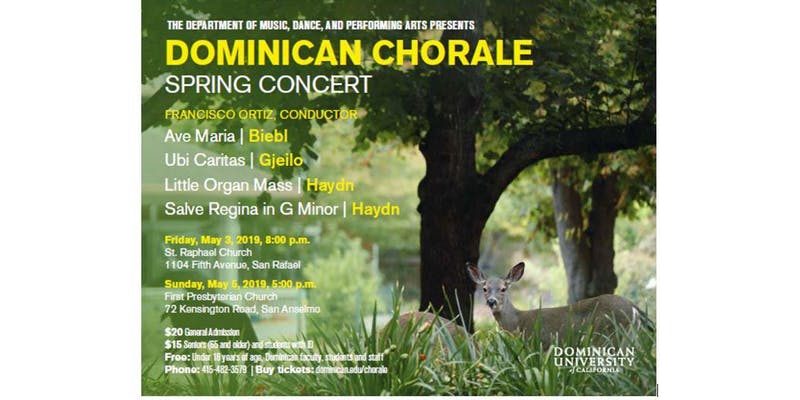 The Dominican Chorale is a community choral ensemble sponsored by Dominican University of California. The Chorale is open to all interested in singing choral art music, and serves as an academic credit ensemble for university music students and other students enrolled at Dominican.
The Dominican Chorale will be performing:
Ave Maria by Heinrich Biebl
Ubi Caritas by Ola Gjeilo
Missa Brevis Sancti Joannis de Deo, Hob.XXII: 7 "Little Organ Mass" by F. J. Haydn
Salve Regina in G Minor by F. J. Haydn
$20 General Admission
$15 Seniors (65 and older) and students with I.D.
Free for anyone under 18 years of age, as well as for Dominican faculty, students, and staff
For more information:
Phone: (415) 482-3579
Email: music@dominican.edu
Social media:
facebook.com/dominicanmusicdanceperformingarts/
For more information, visit https://dominican.edu/chorale.
RSVP: https://www.eventbrite.com/e/dominican-chorale-spring-concerts-tickets-58598932986?aff=erelexpmlt