Community meeting for Parks and Recreation Master Plan
---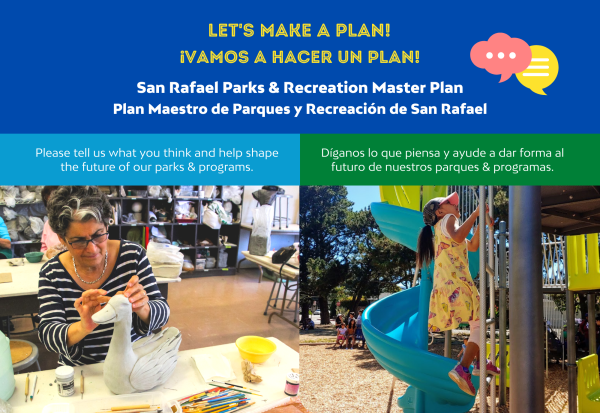 Please tell us what you think and help shape the future of our parks & programs.
We're developing a plan to improve San Rafael parks, recreational facilities and programs and want to hear from you!

By including your feedback and input in the planning process, we'll be able to further promote the quality of life for San Rafael residents.
¡Estamos desarrollando un plan para mejorar los parques, las instalaciones recreativas y los programas de San Rafael y queremos saber de usted! Vaya al siguiente enlace para averiguar cómo puede participar en el próximo cuestionario y reuniones de toda la comunidad.
Community Meeting #1A – held in English
Wednesday, March 30, 6:00pm
San Rafael Community Center – 618 B Street, San Rafael
Join us as we introduce the planning process and to learn about the community survey.
Visit the website to learn more! Visita el sitio web para saber más!
www.cityofsanrafael.org/parks-and-recreation-master-plan/